Smok Nord 5 Kit Complete 80W – 2000mAh Battery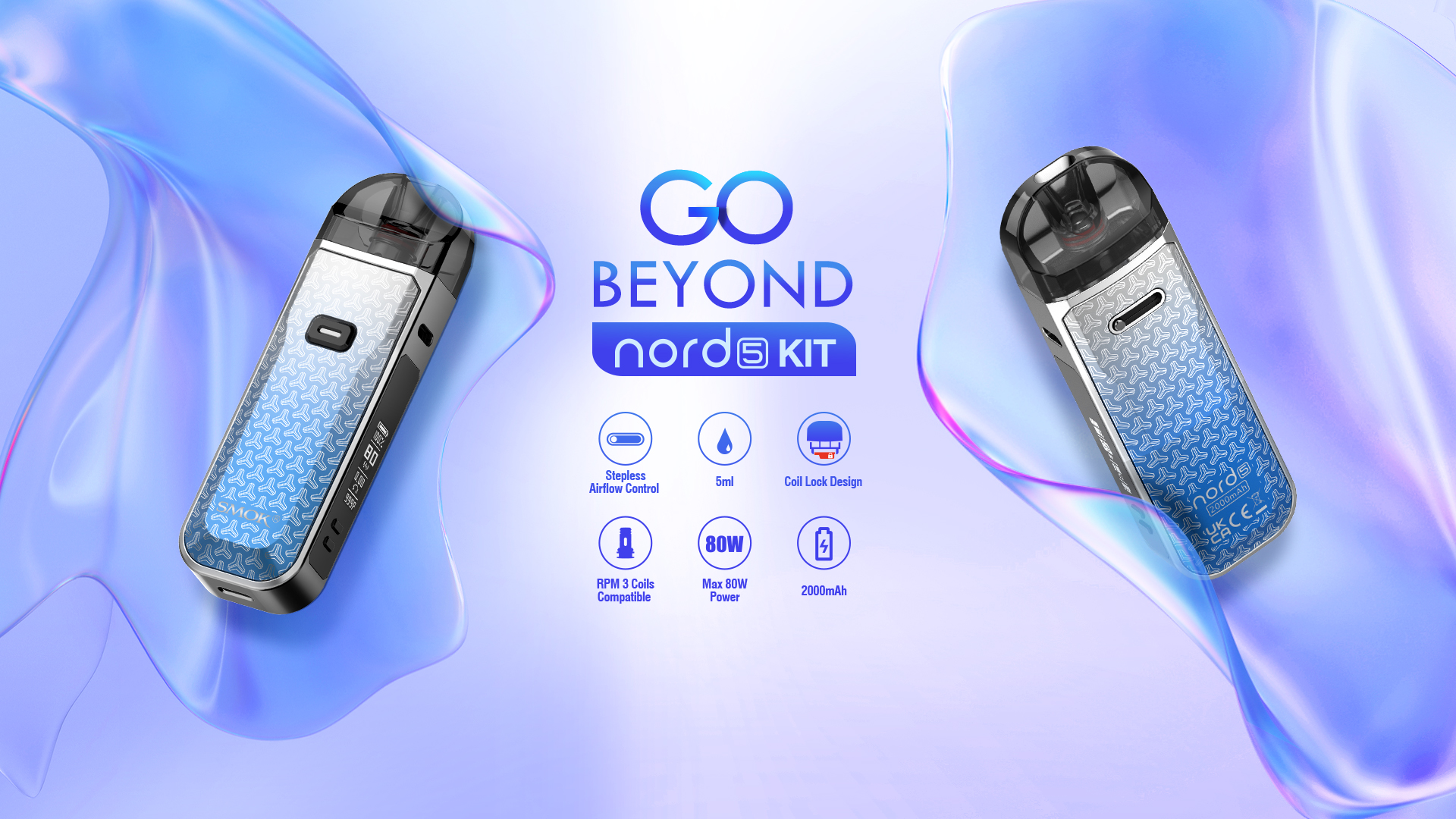 Igniting the smok nord 5 kit , the built-in 2000mAh battery wakes up the watt mode and makes the dual-side airflow system effective, allowing you to adapt the power and air intake to your preference on the strength of the taste. Moreover, the ingenious lock design on the pod secures the coil in place, effectively avoiding child contact and mess leakage. Innovation keeps changing the vaping experience!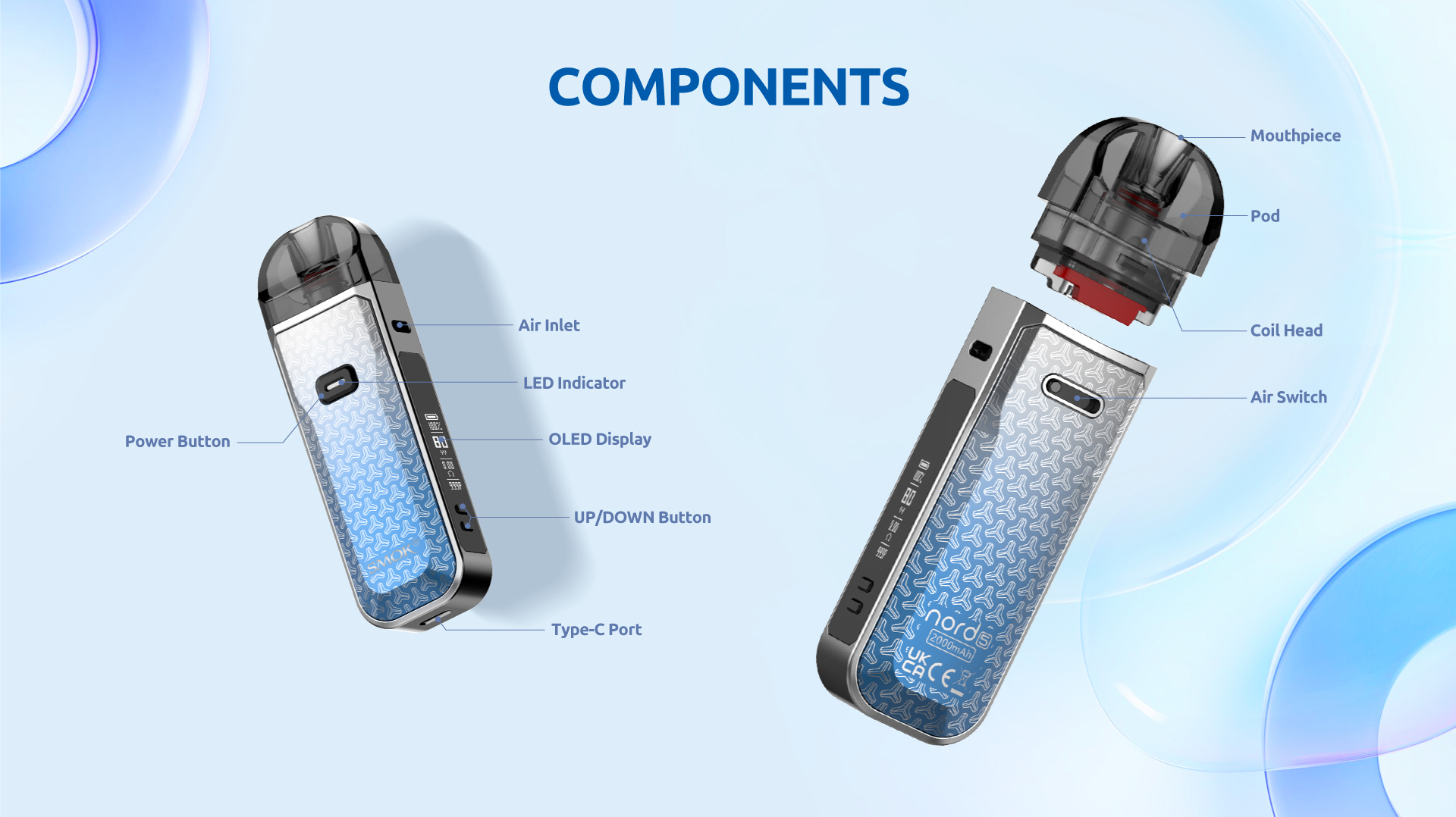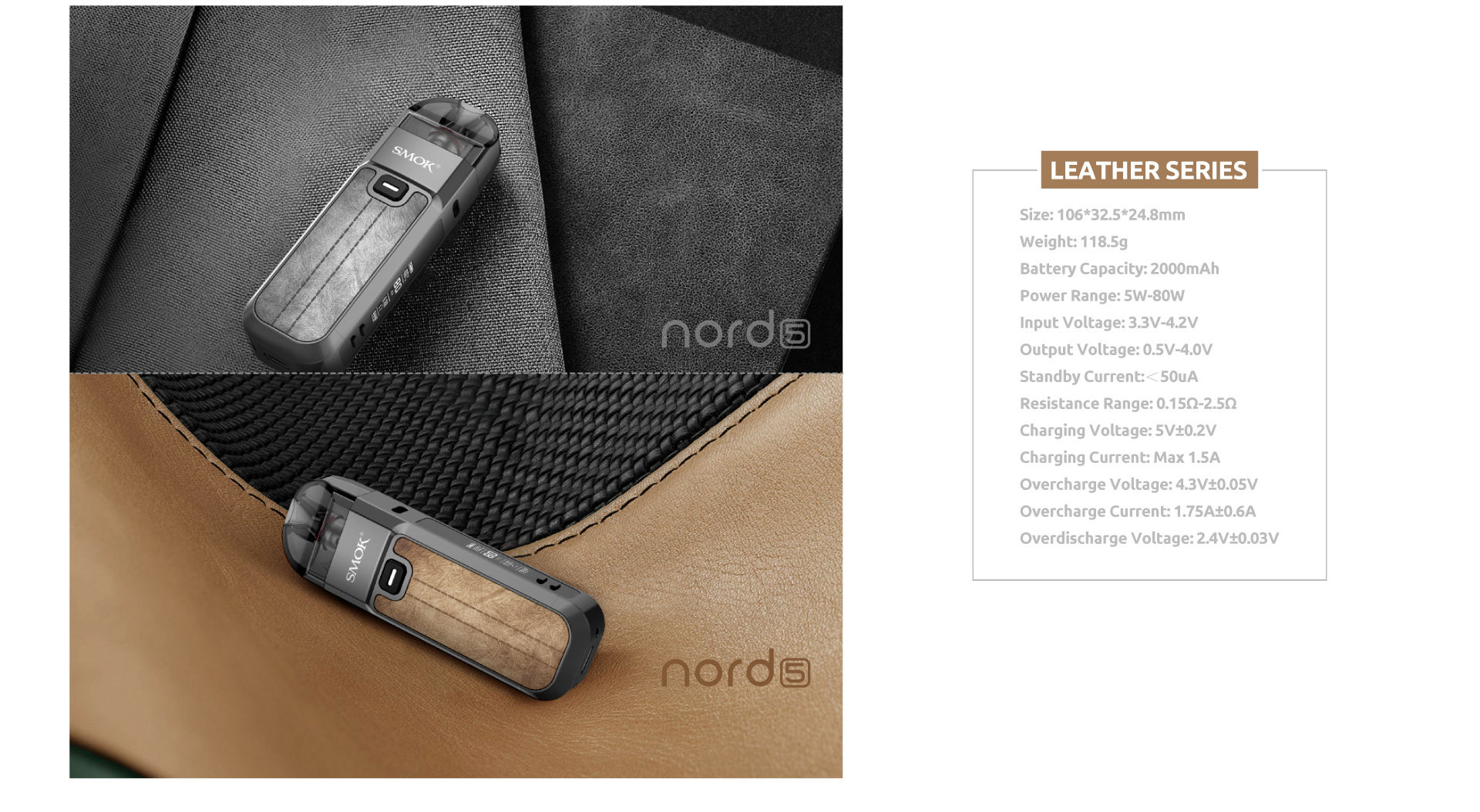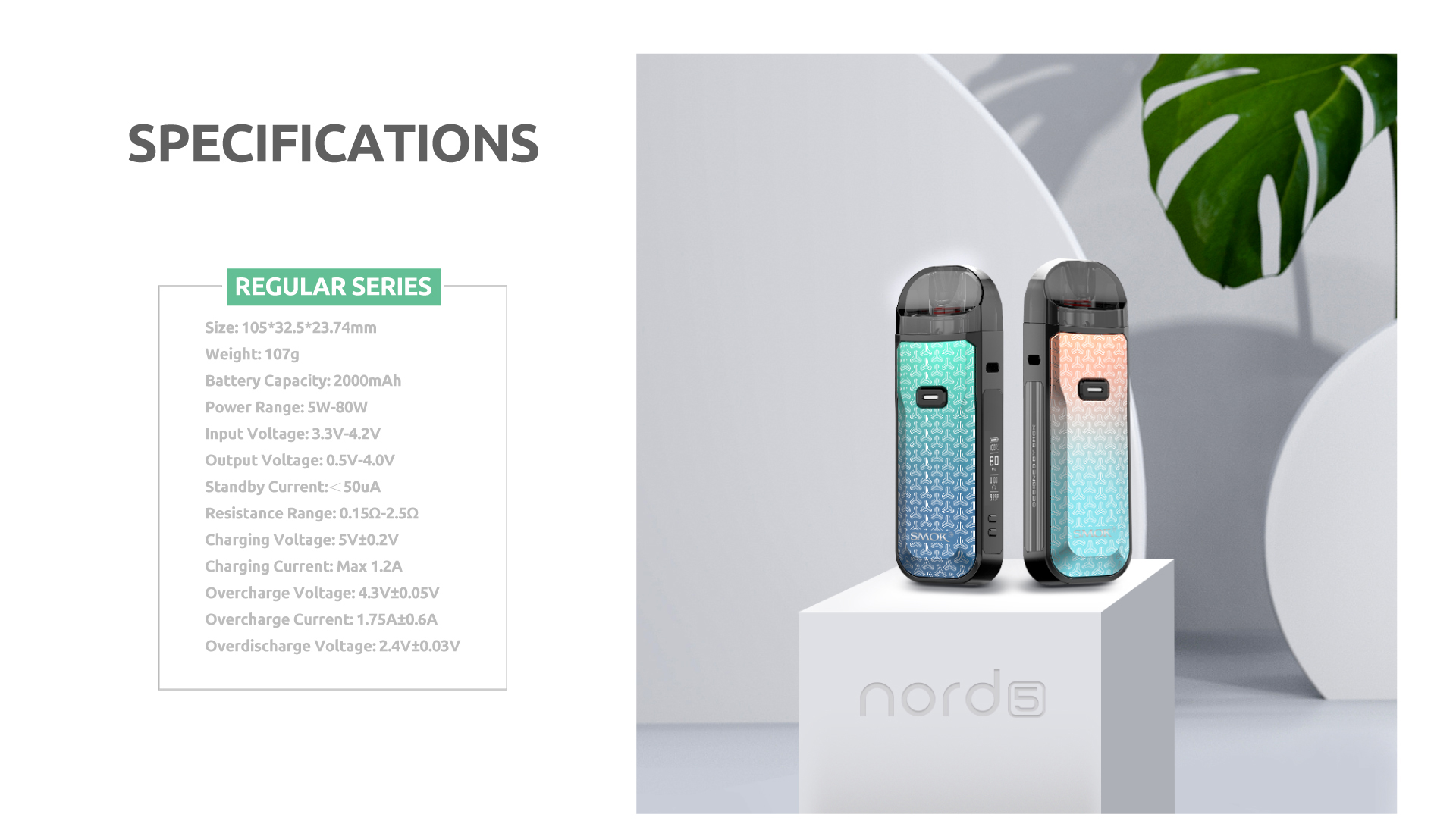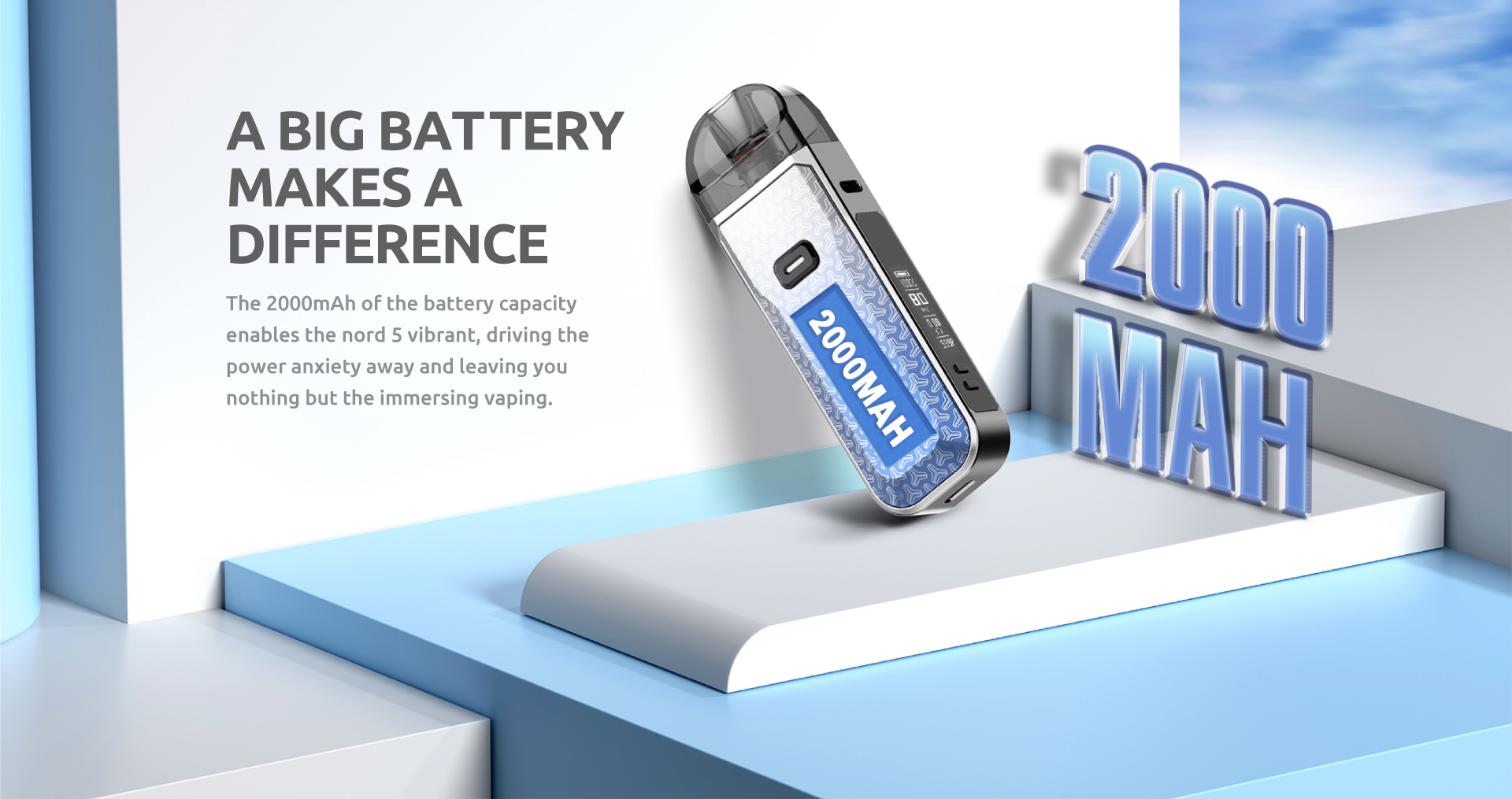 STEPLESS AIRFLOW CONTROL
Drag the slider to define the air intake, and the dual-side air inlet layout enables fuller
atomization and more balanced heat dissipation, contributing to a smooth and plump taste.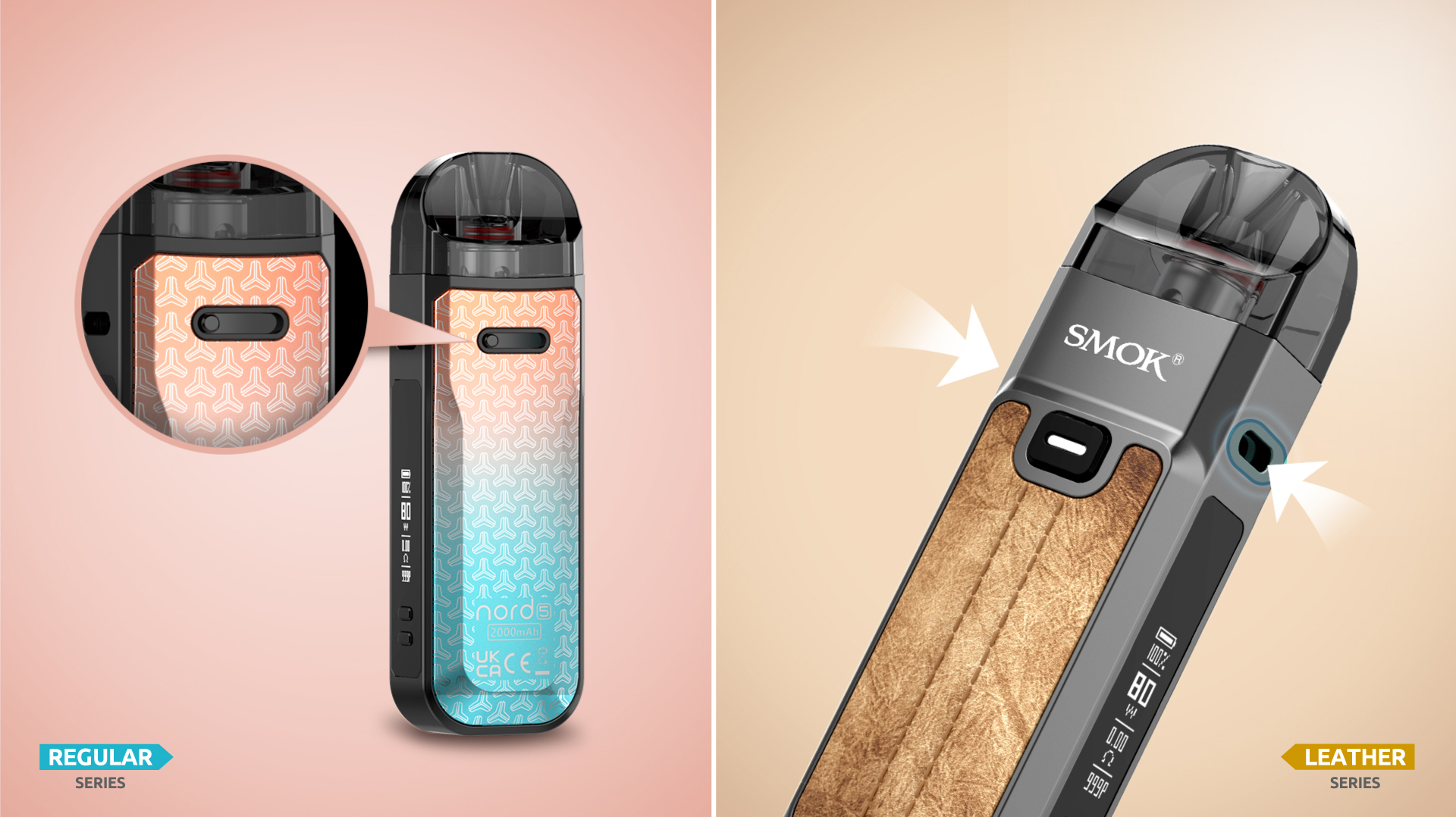 POWER ADJUSTABLE,
EXPERIENCE UP-TO-DATE
Just stay focused on the preferred taste and nord 5 is here to satisfy you whether you favor
a delicate or tough one by freely adjusting the working power within 5W-80W.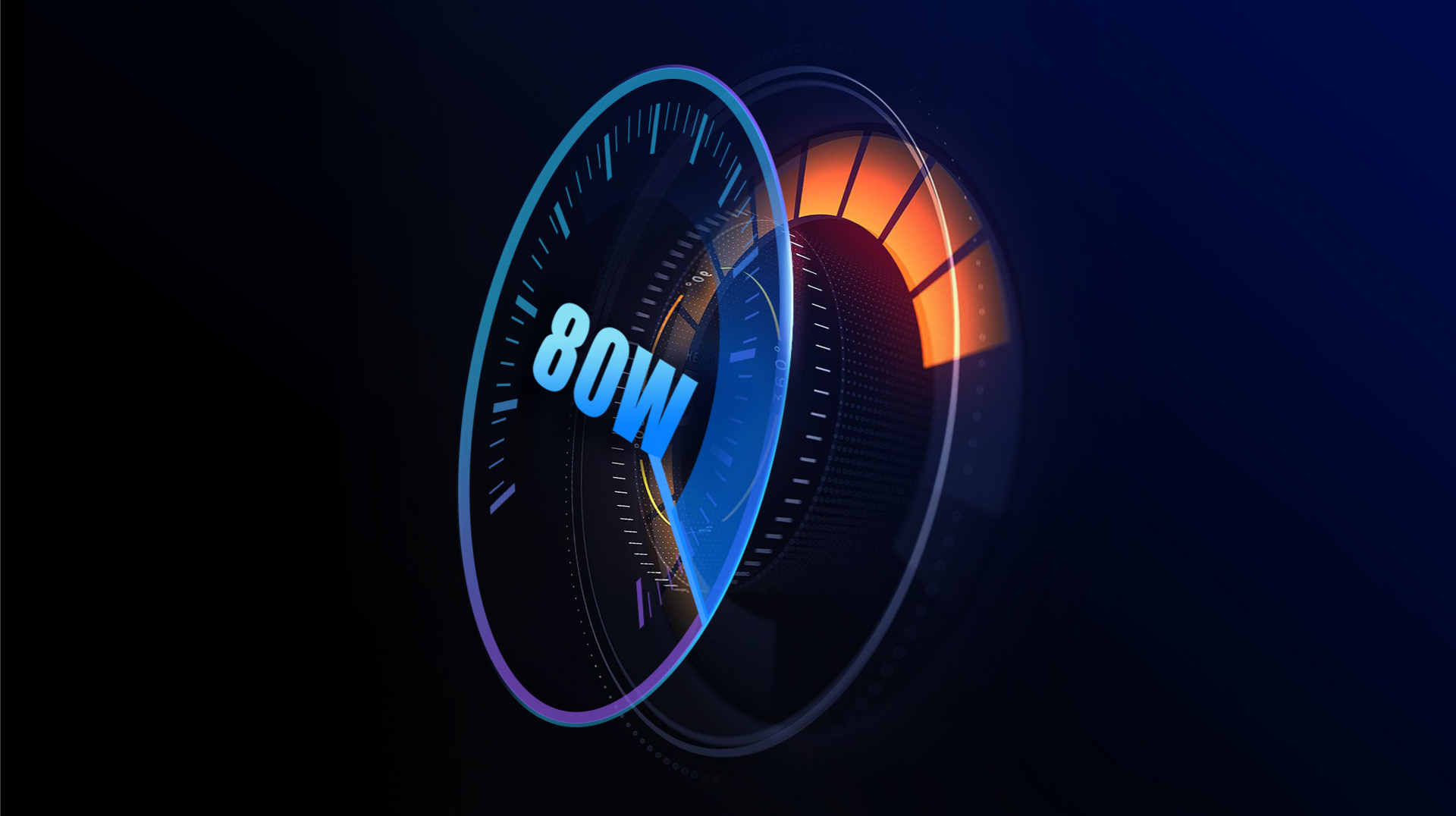 CLOSELY FOLLOW YOUR PUFFING
The 0.69inch OLED display shows you the accurate working data and the LED indicator lets you know
the current situation that your device is facing, such as flashing 5 times to echo with the short circuit.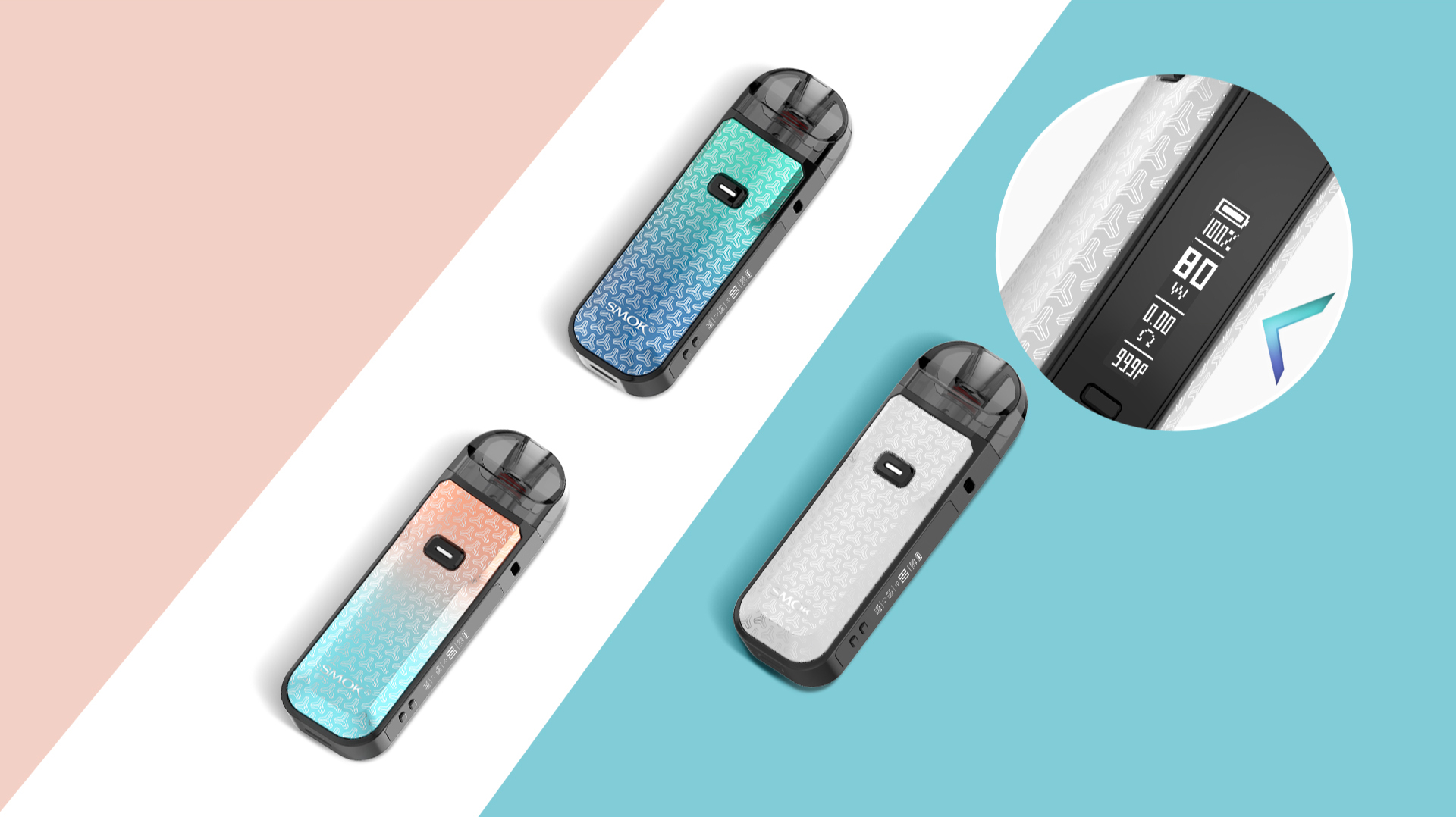 MAX 1.5A TYPE-C CHARGING

Smok Nord 5 kit take an hour and 40 minutes at most to recover from the low battery and
stay in top shape in the next vape journey.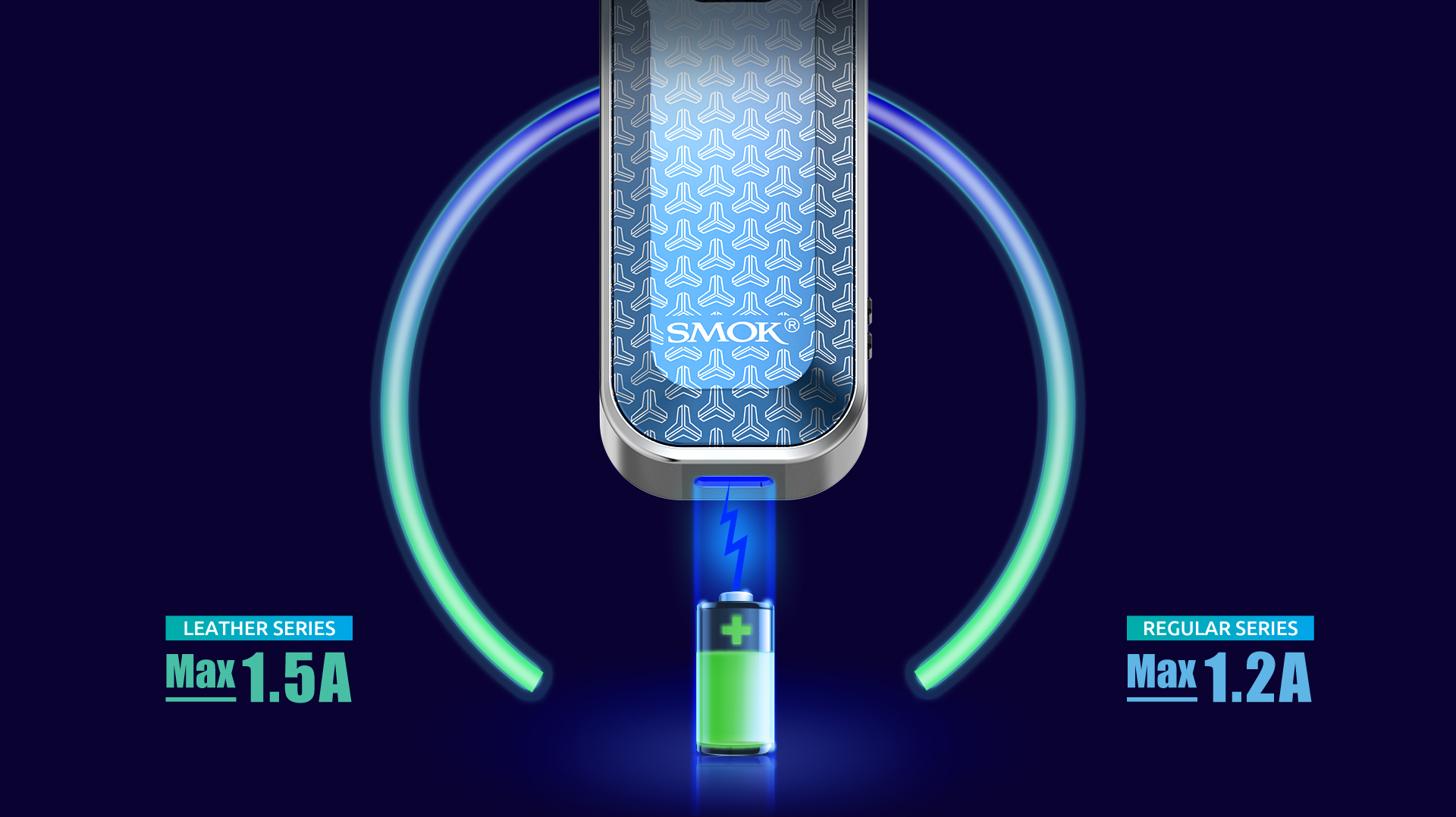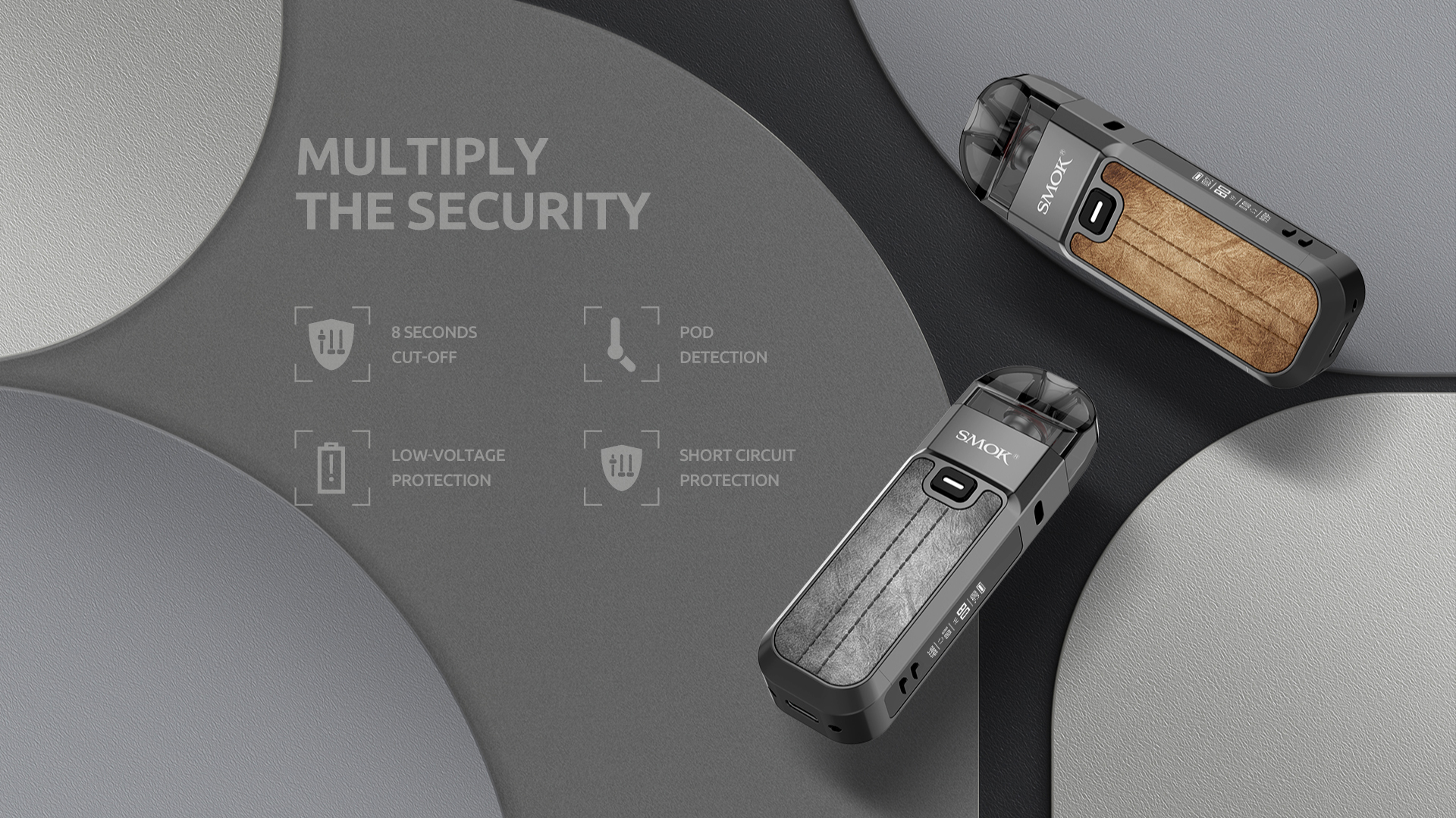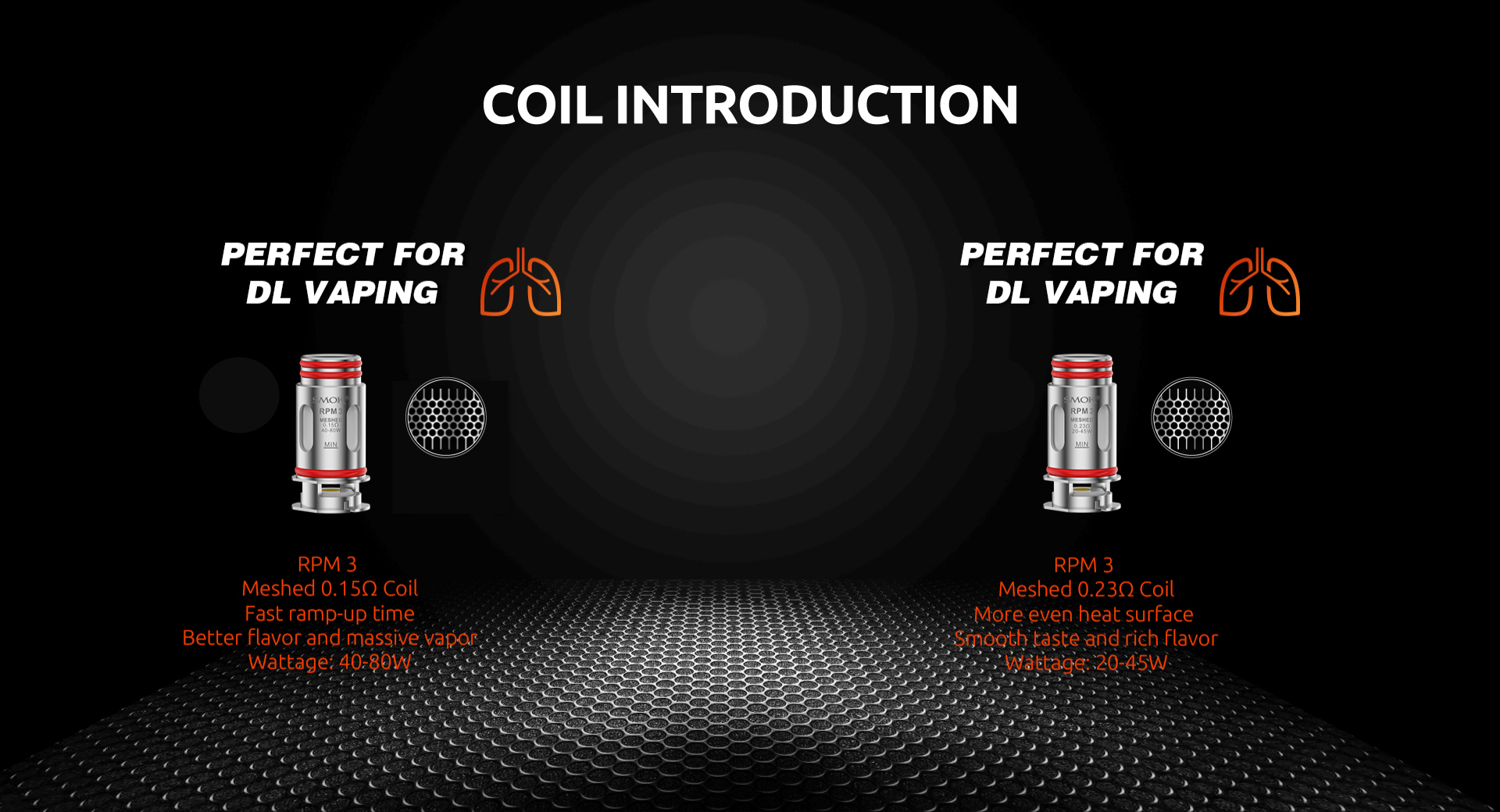 LOCK THE RISK, UNLOCK THE SAFETY

Smok Nord 5 pod is configured with an ingenious lock that enhances the child's safety in
case of the e-liquid leakage when the coil head is removed accidentally.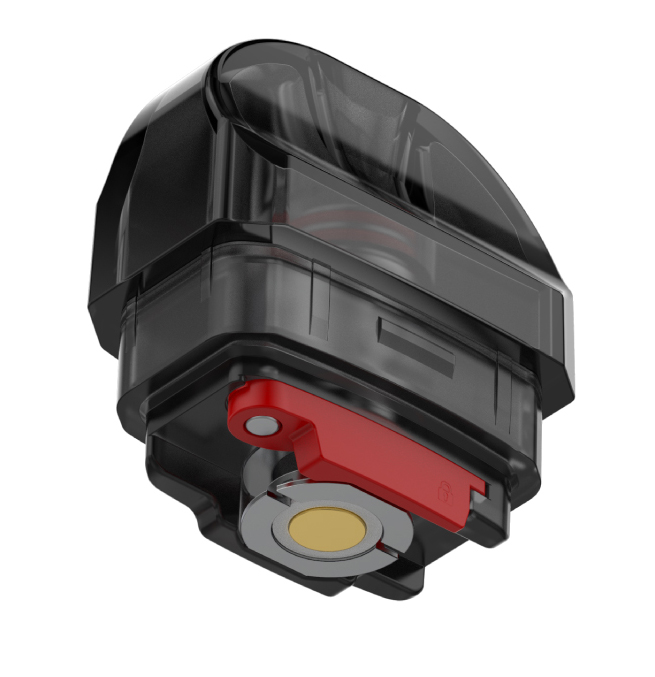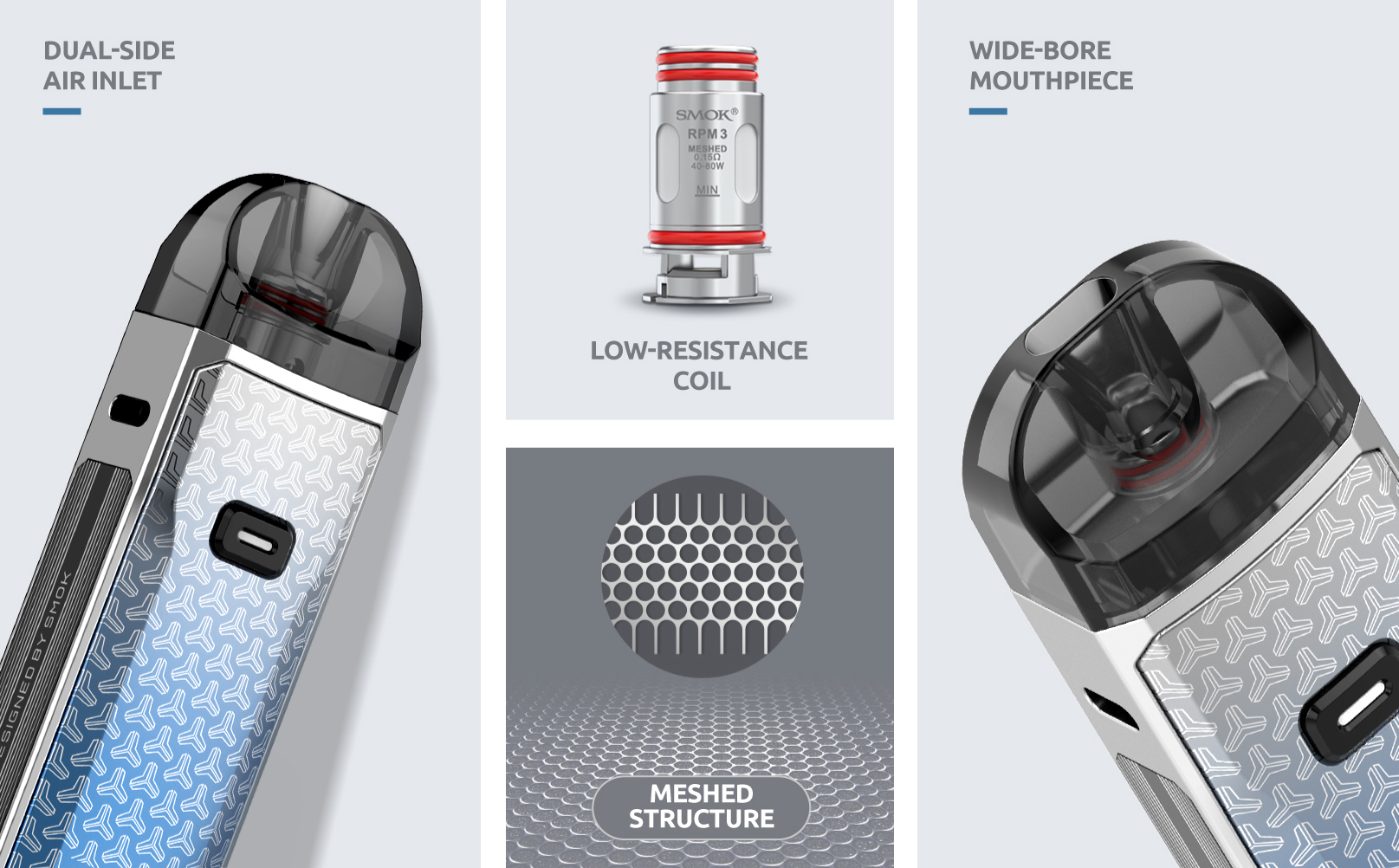 HOW TO FILL WITH E-LIQUID

Do not inhale immediately after filling the pod. Let it stand for several minutes to get the cotton completely saturated.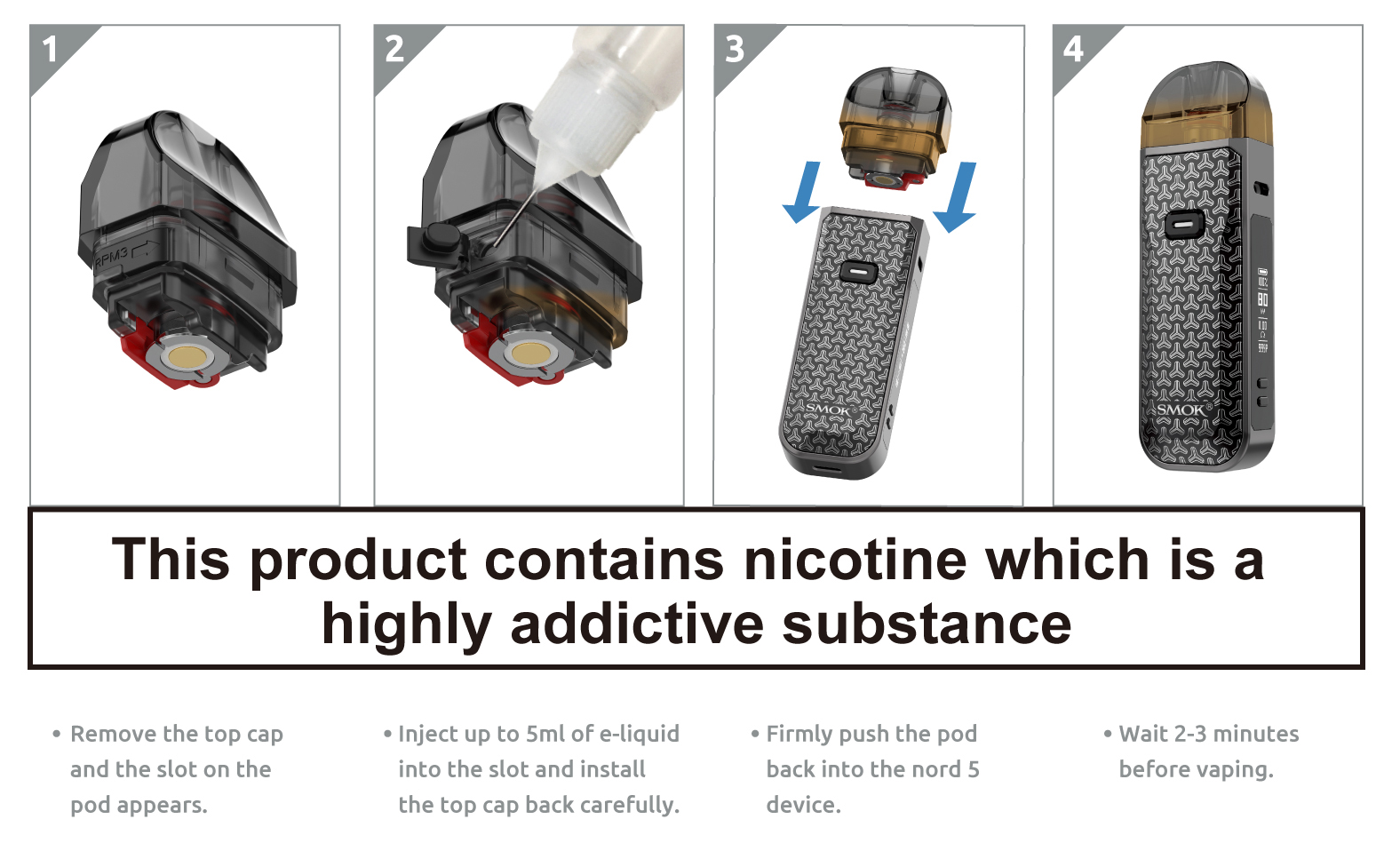 Buy salts, freebase liquids, Mods, Kits, Hardware, Tanks, Accessories, Pods, Coils, etc. from THEVAPETOWN your favorite vape shop at your ease to get delivered to your doorstep. we provide the best quality e-liquids salts and hardware all over Pakistan at cash-on-delivery service or you can transfer online.
Check Out more NicSalts and Freebase Flavors at www.thevapetown.com Or Visit Our Branches in Lahore:
1: Gulberg Branch: 18-G Center Point Plaza Main Boulevard Gulberg, Lahore
2: Wapda Town Branch: 187-Airline Housing Society, Lahore
3: UCP Branch: 599 main Khayaban-e-Jinnah, Beside UCP University, Lahore
THE BEST VAPE SHOP IN LAHORE, PAKISTAN.
THE VAPE TOWN is a leading Vape Shop in Lahore Pakistan with a one-stop solution for all your vaping desires. From Salt Nics to Juul pods, from premium USA e-juices to pod mods, Electronic Shisha, starter kits, and rebuildable tanks, we have it all in a huge variety for you to choose from at the best price in Pakistan. You can choose the best quality e-cigarette in Pakistan with the best quality e-liquid or e-juice from our widest range from the UK, the USA, and Malaysia, now available in Pakistan at the best price. TheVapeTown Pakistan has it all.