Nitecore Digicharger D4 LCD Battery Charger – 4 Slot
Nitecore D4 Digicharger is a universal smart charger compatible with almost all cylindrical rechargeable batteries. D4 comes four independent microcomputer-controlled charging channels and capable to monitor and charge up to four batteries simultaneously.
It is fully automated that it detects the battery type, selects the appropriate charging mode and stops when it completes. Its crystal clear LED screen displays the real time charging mode, progress. Nitecore D4 is truly the world's most advanced fully automated digital charger. It's as simple as insert, detect and charge.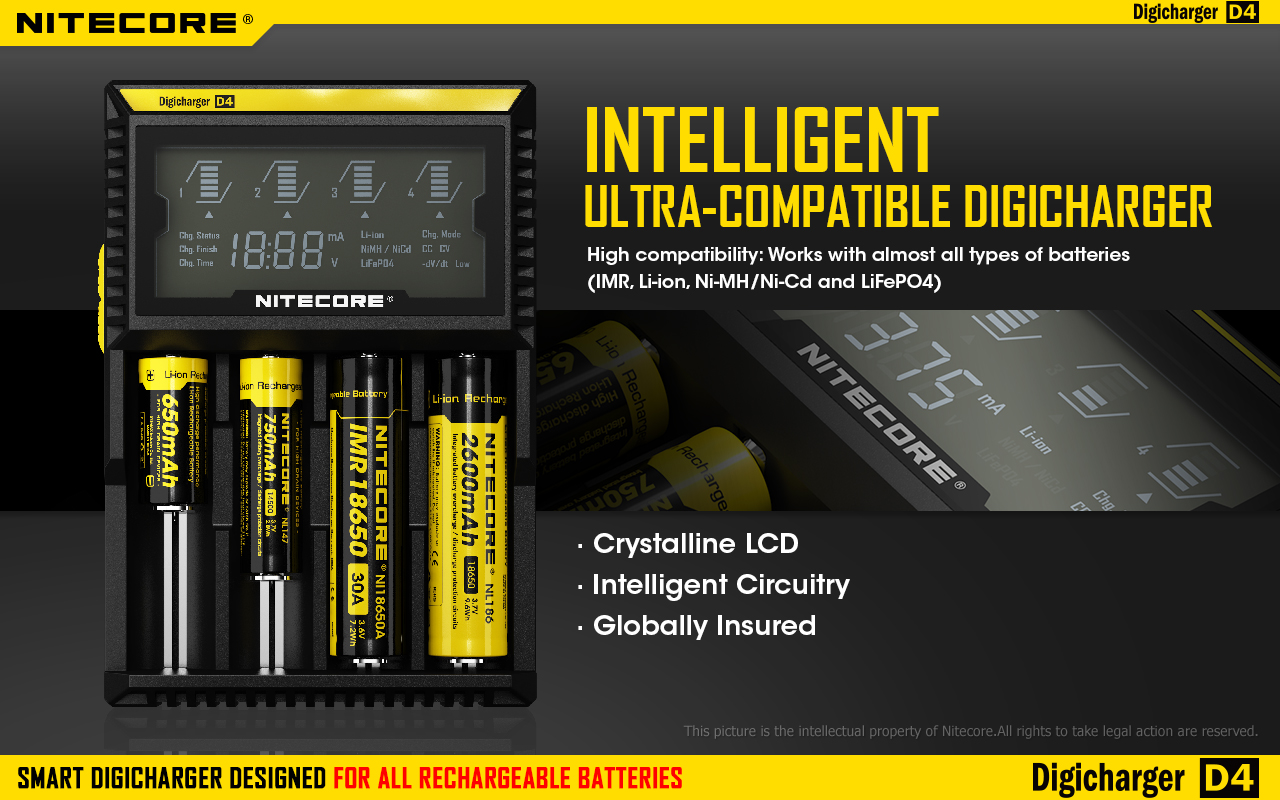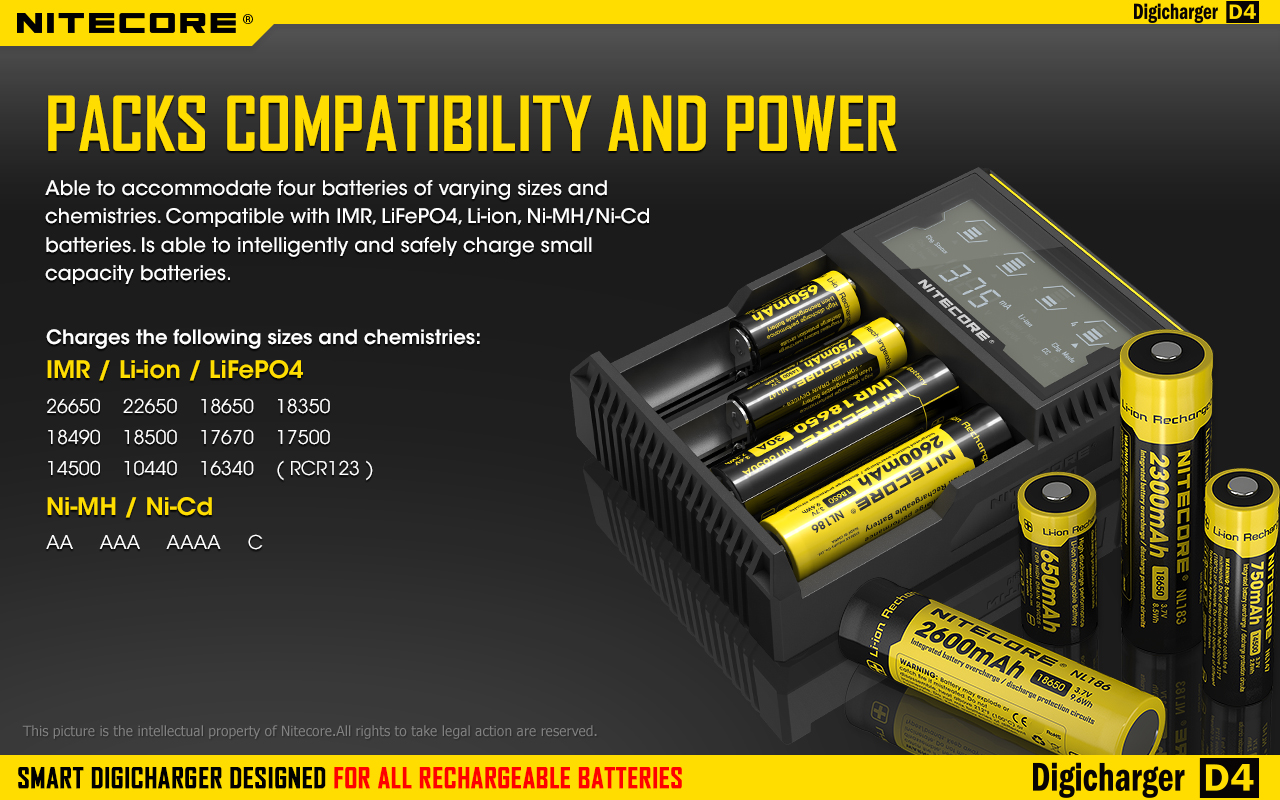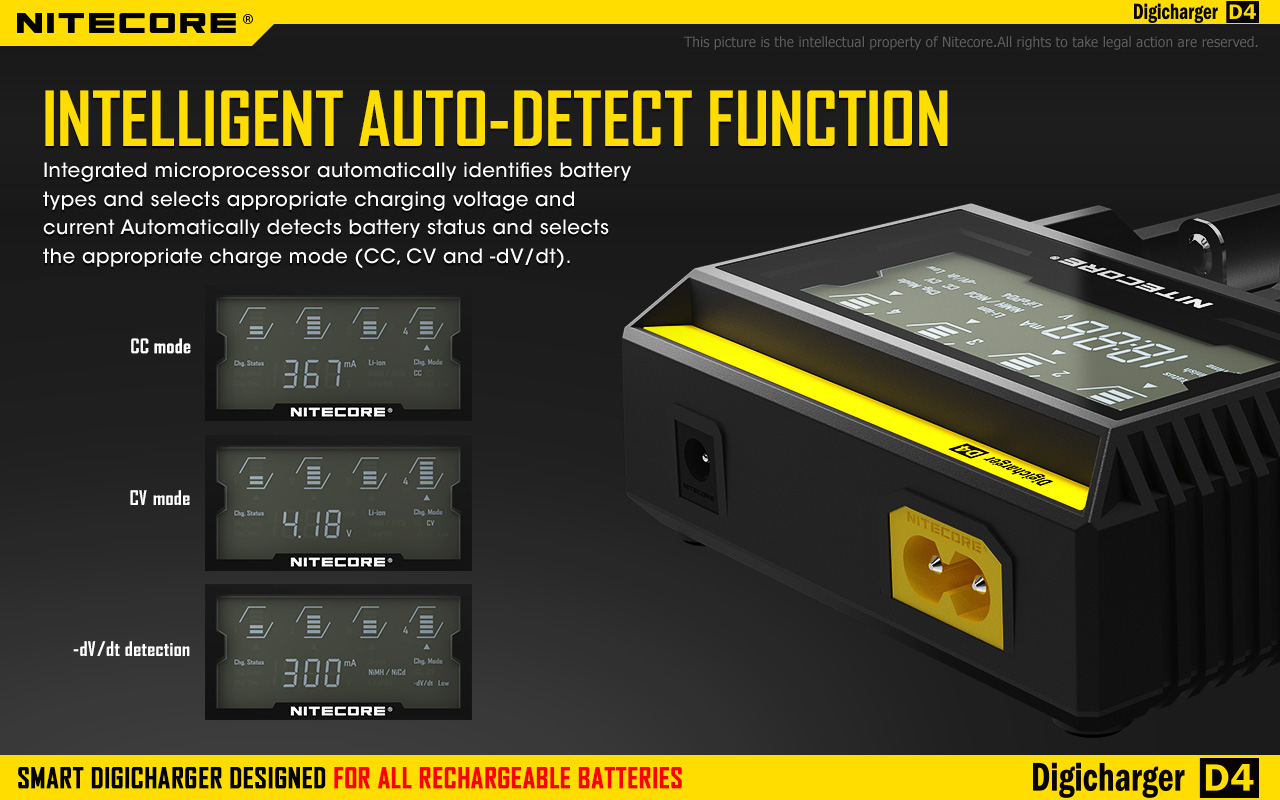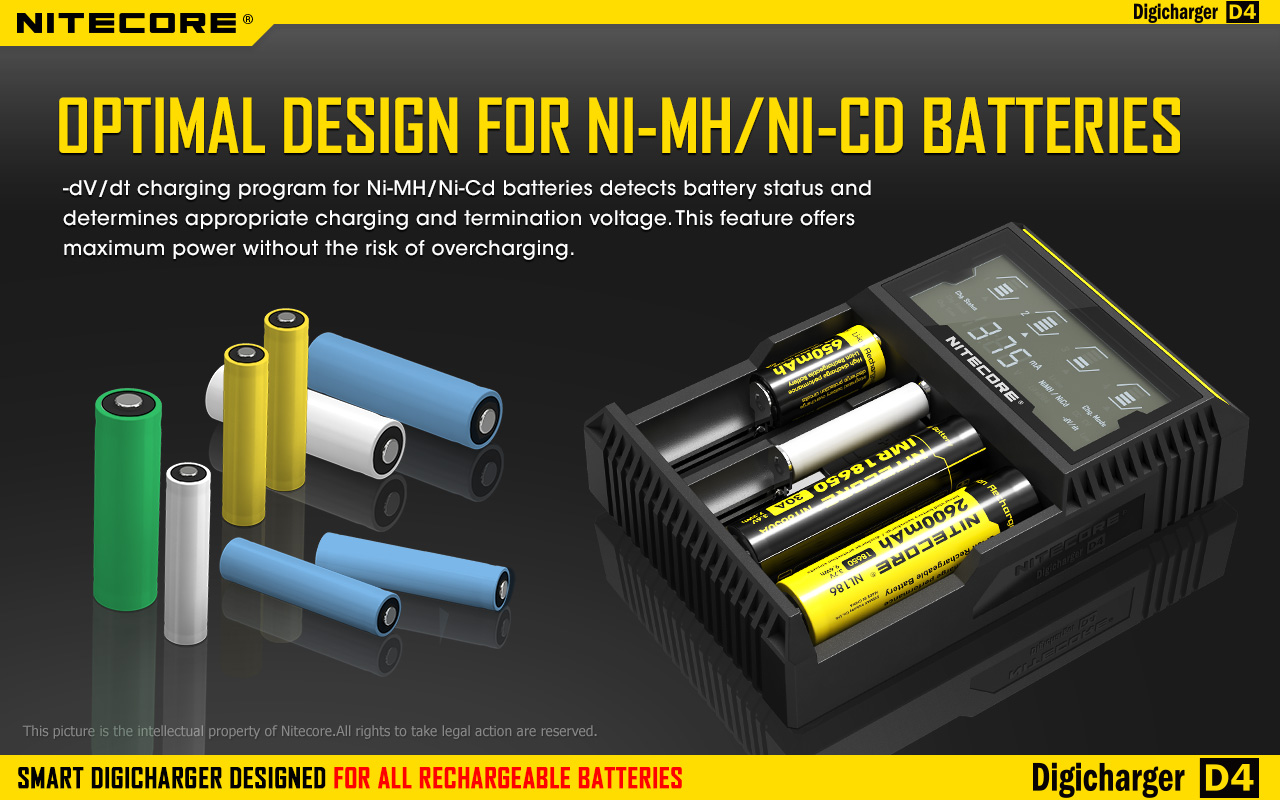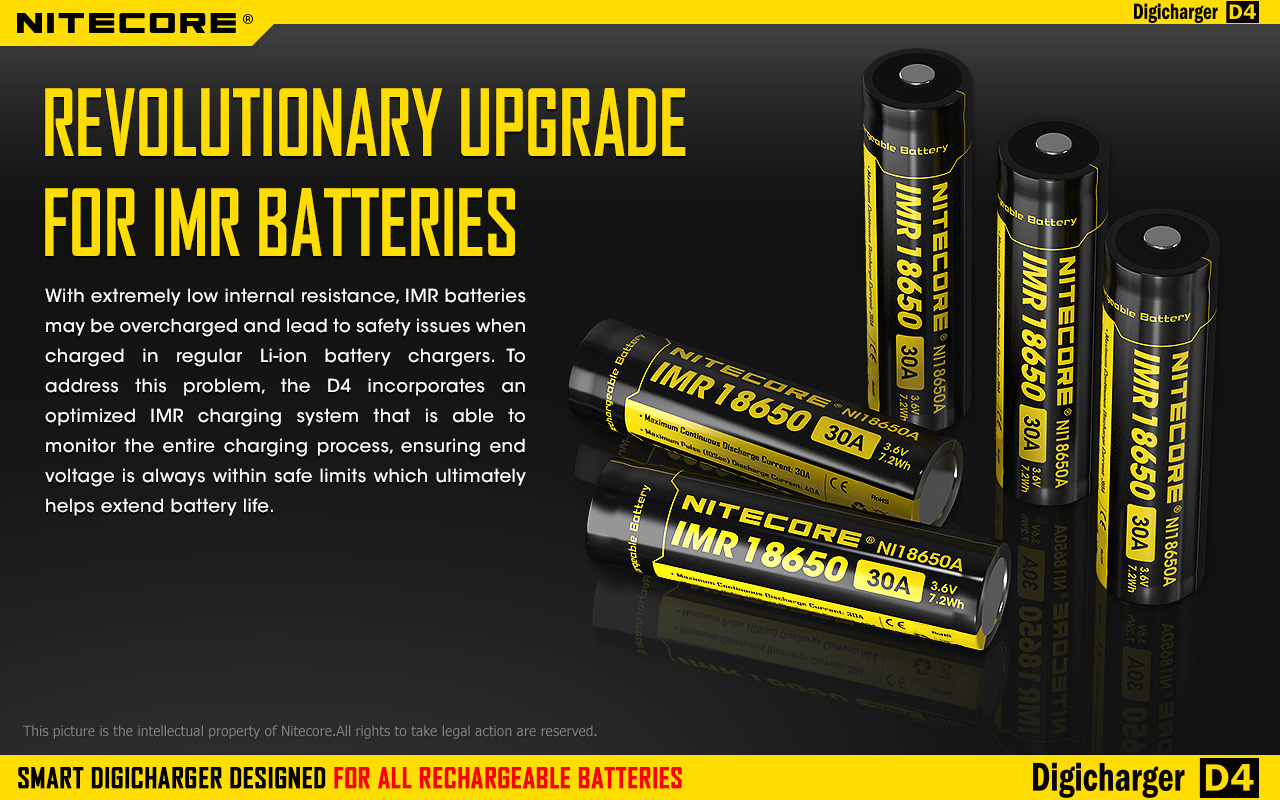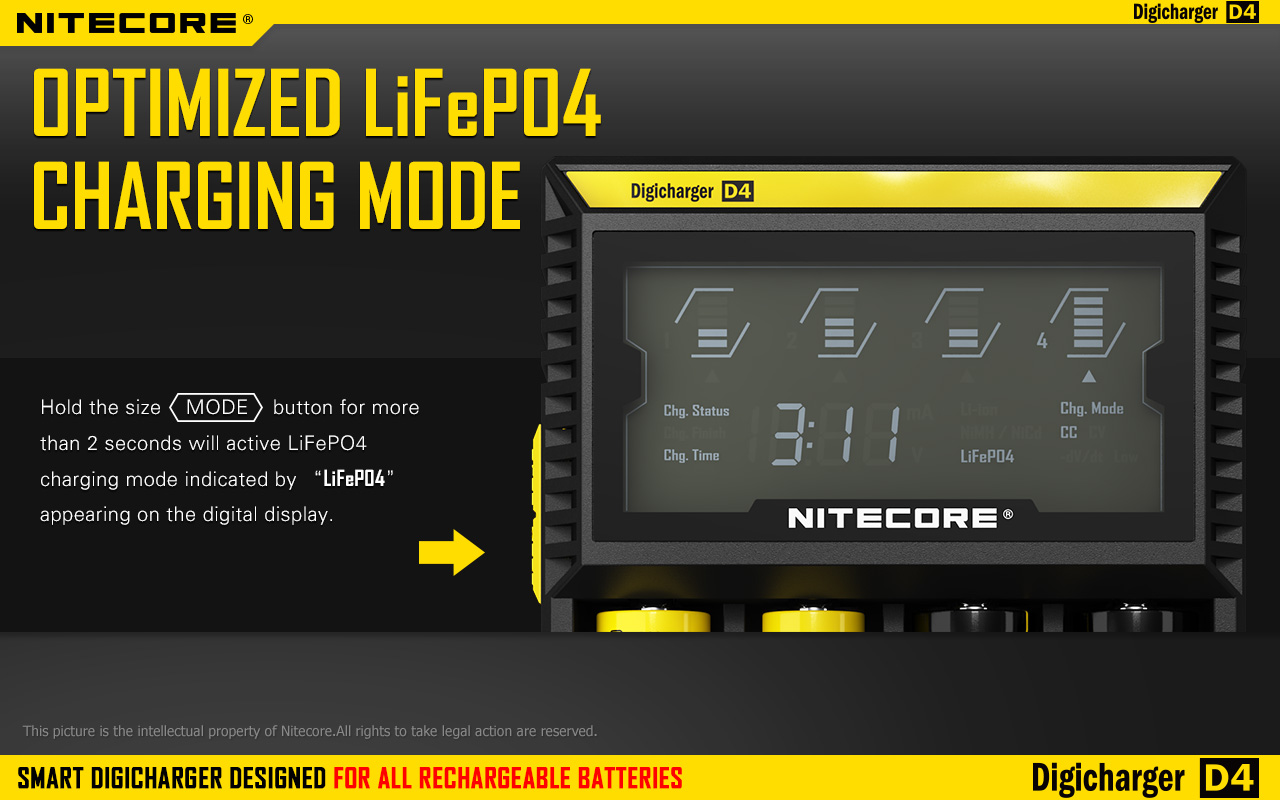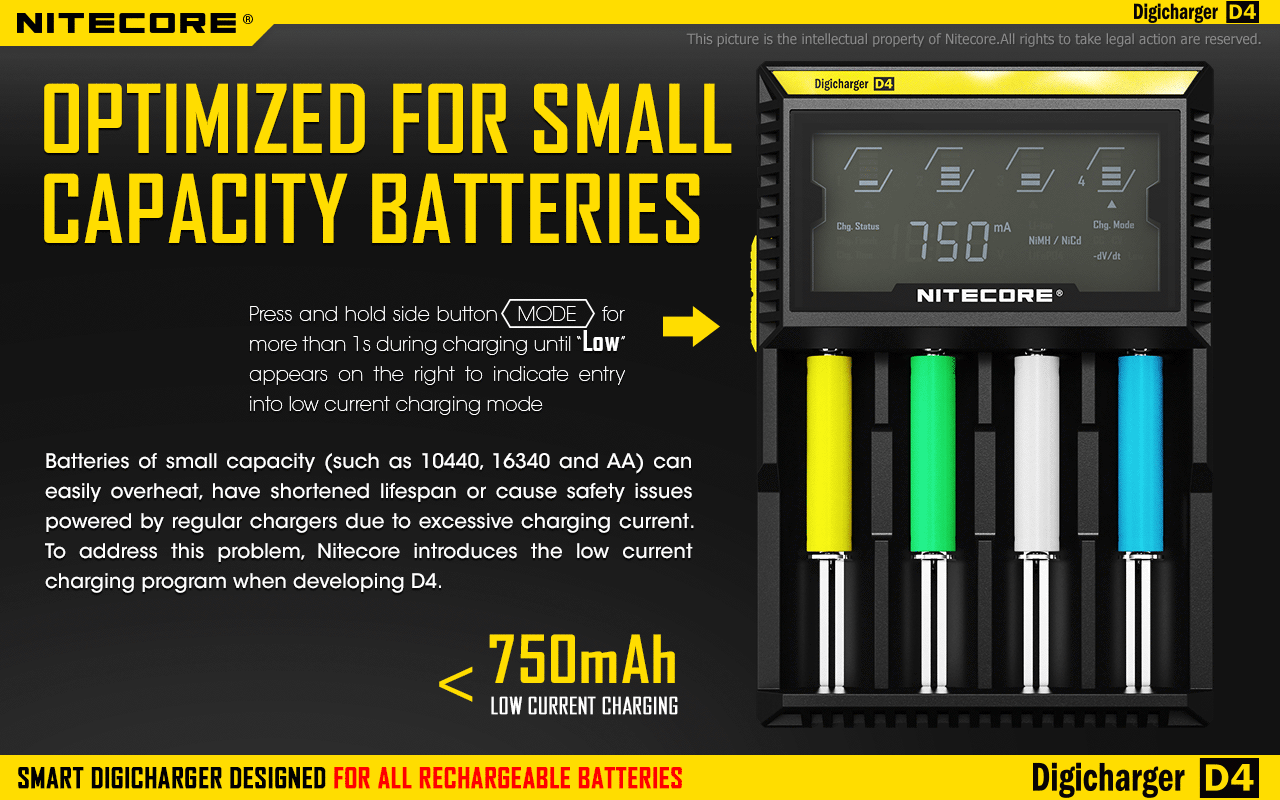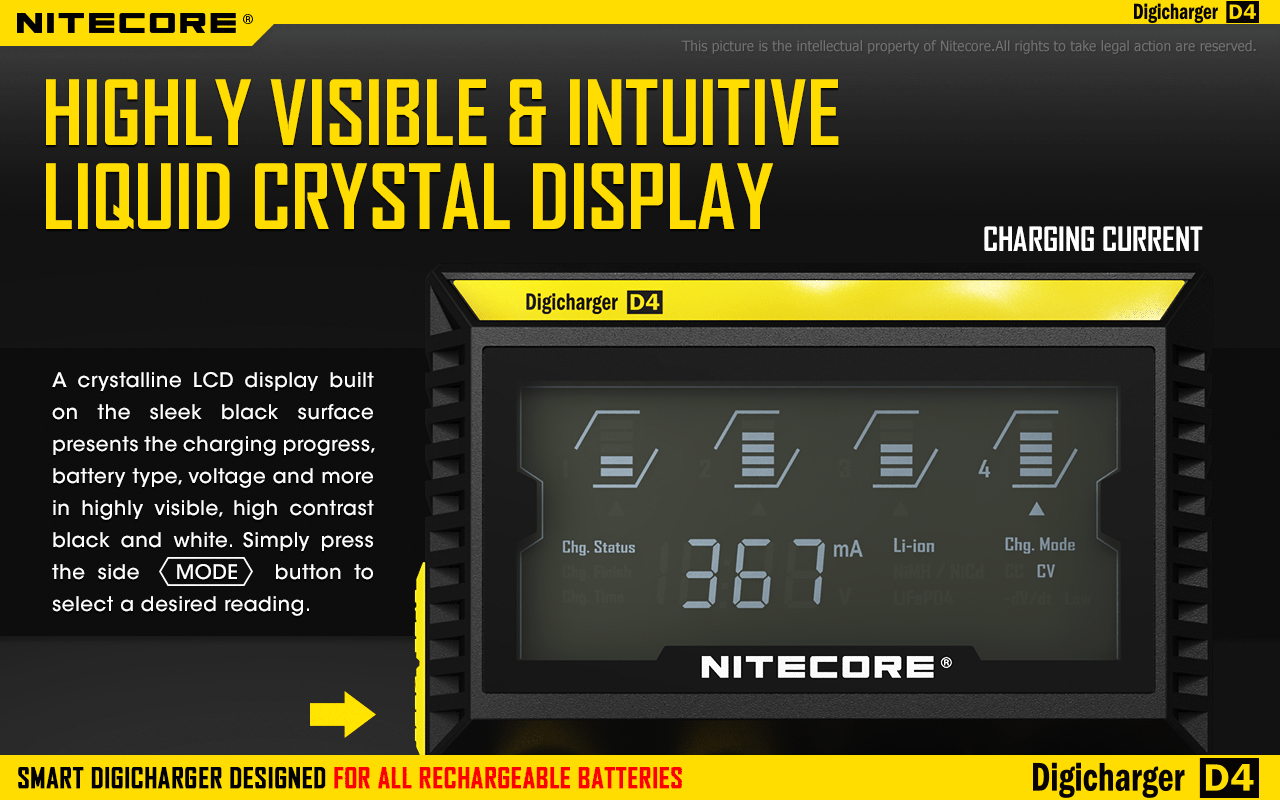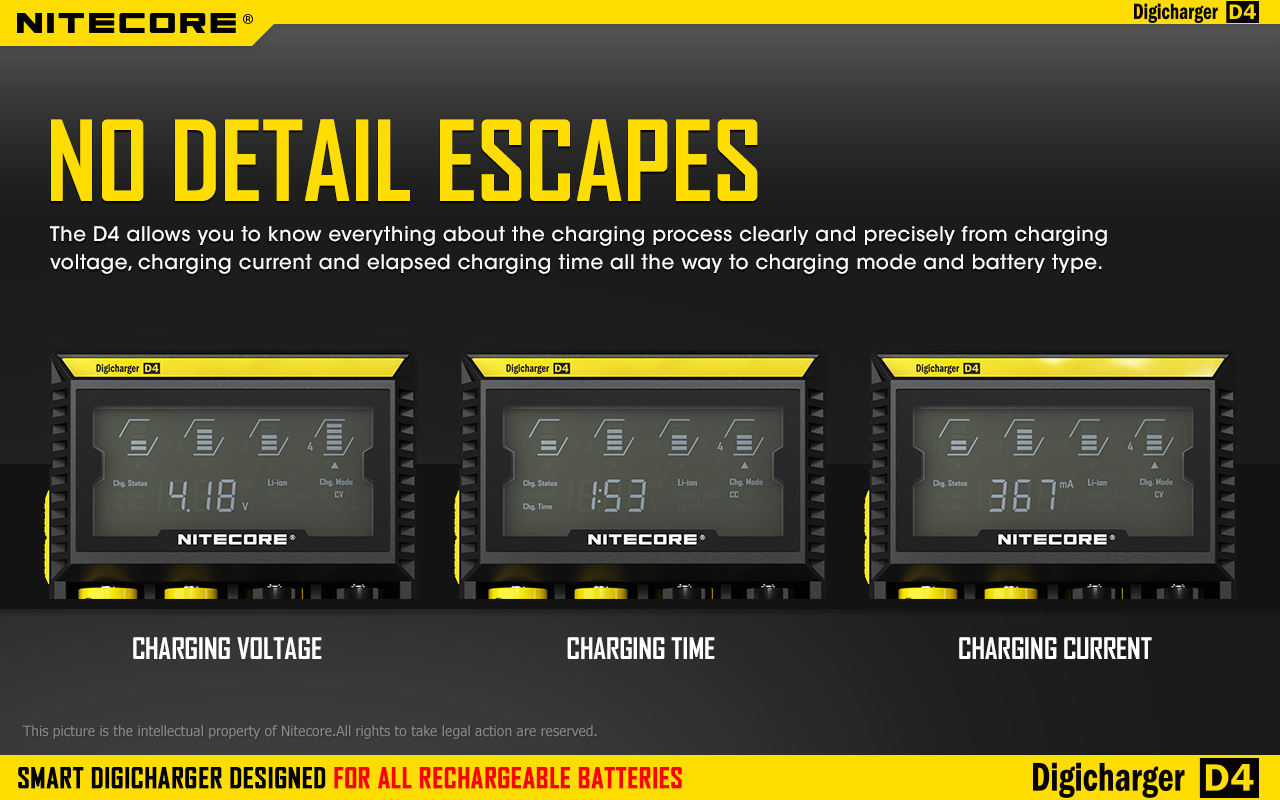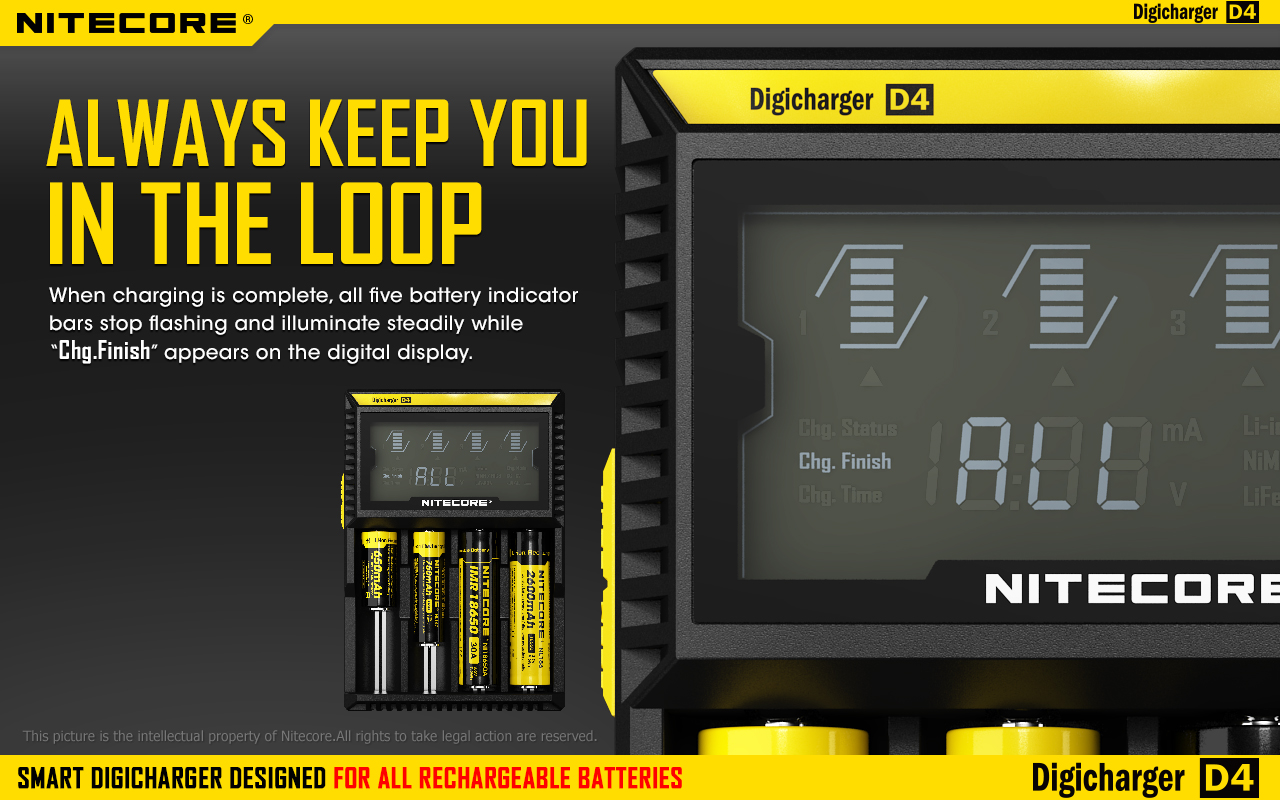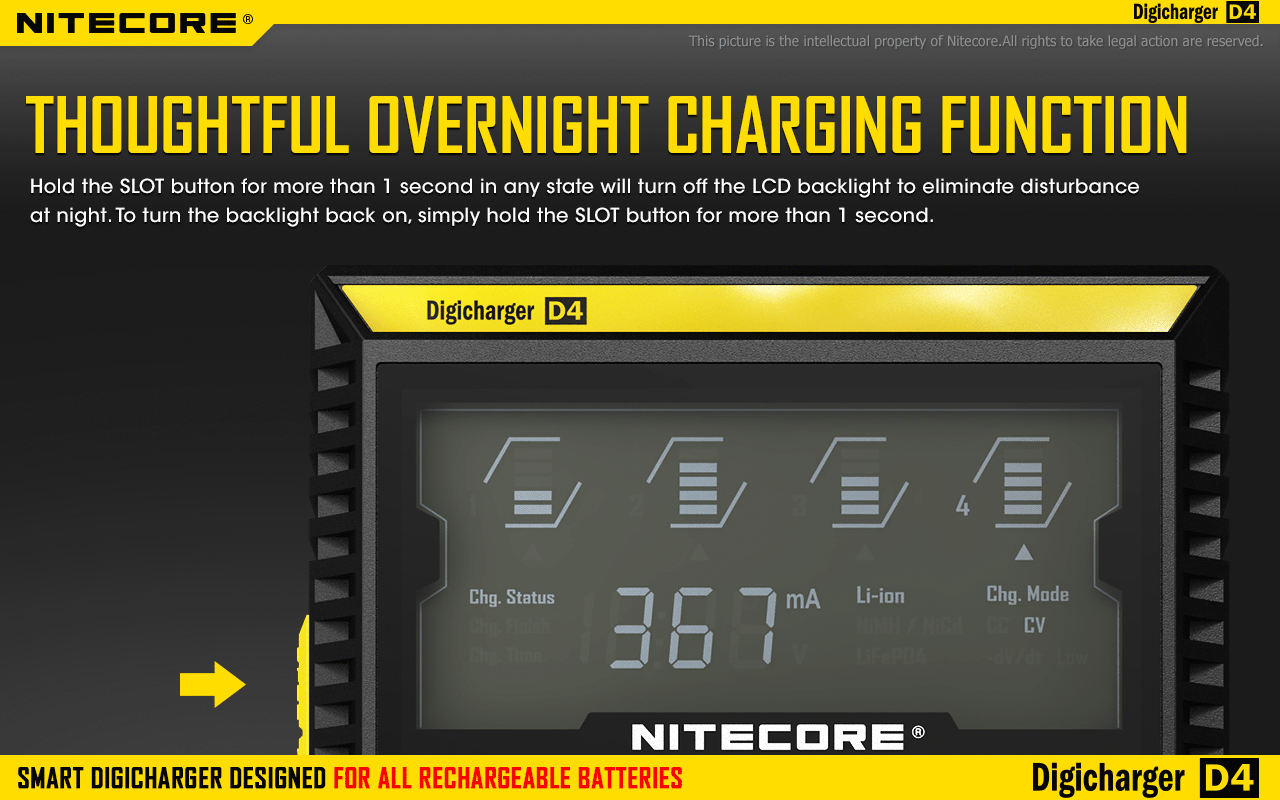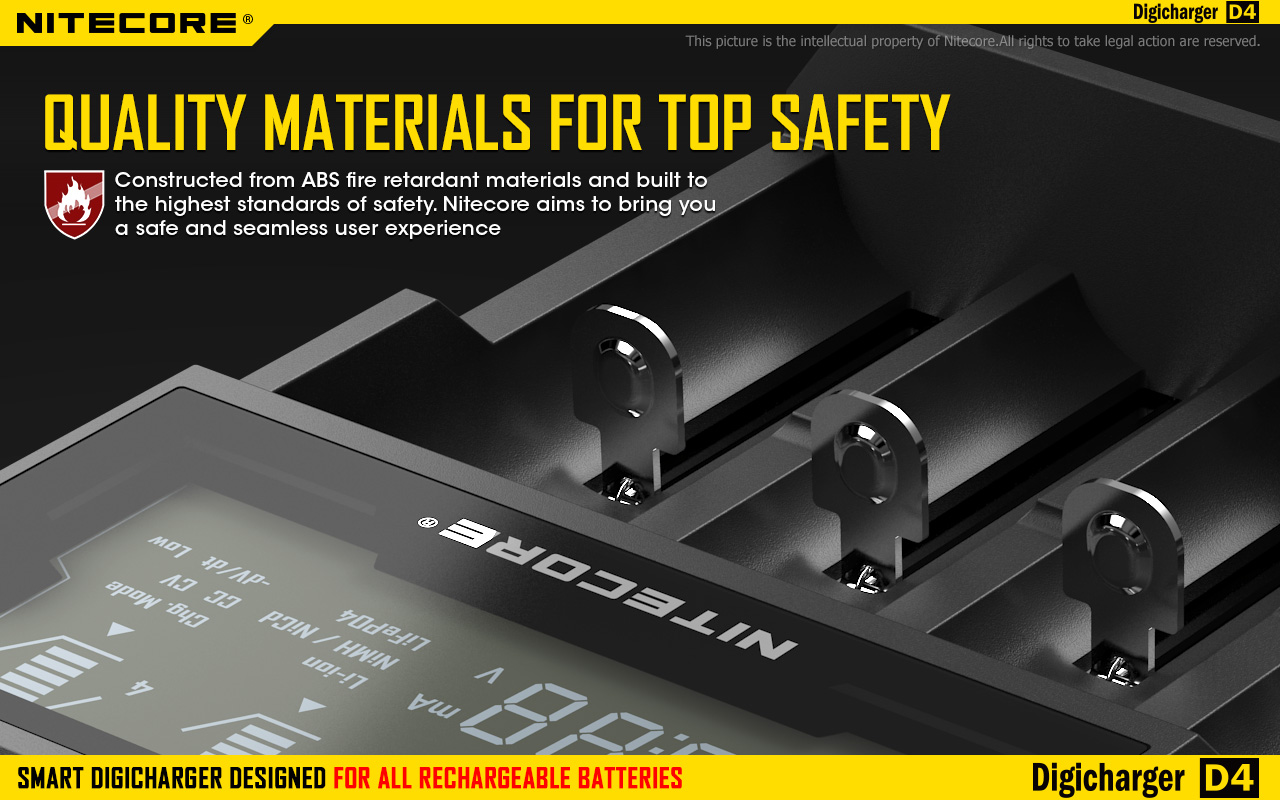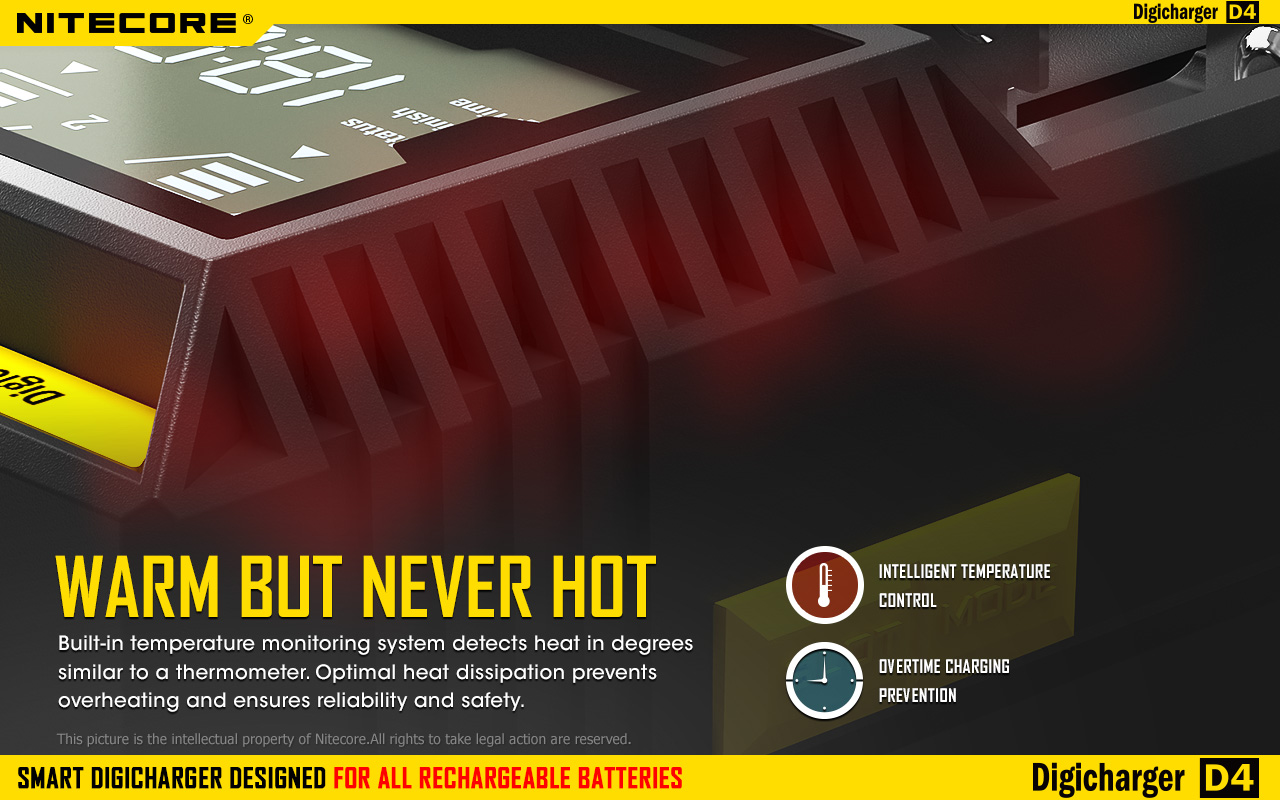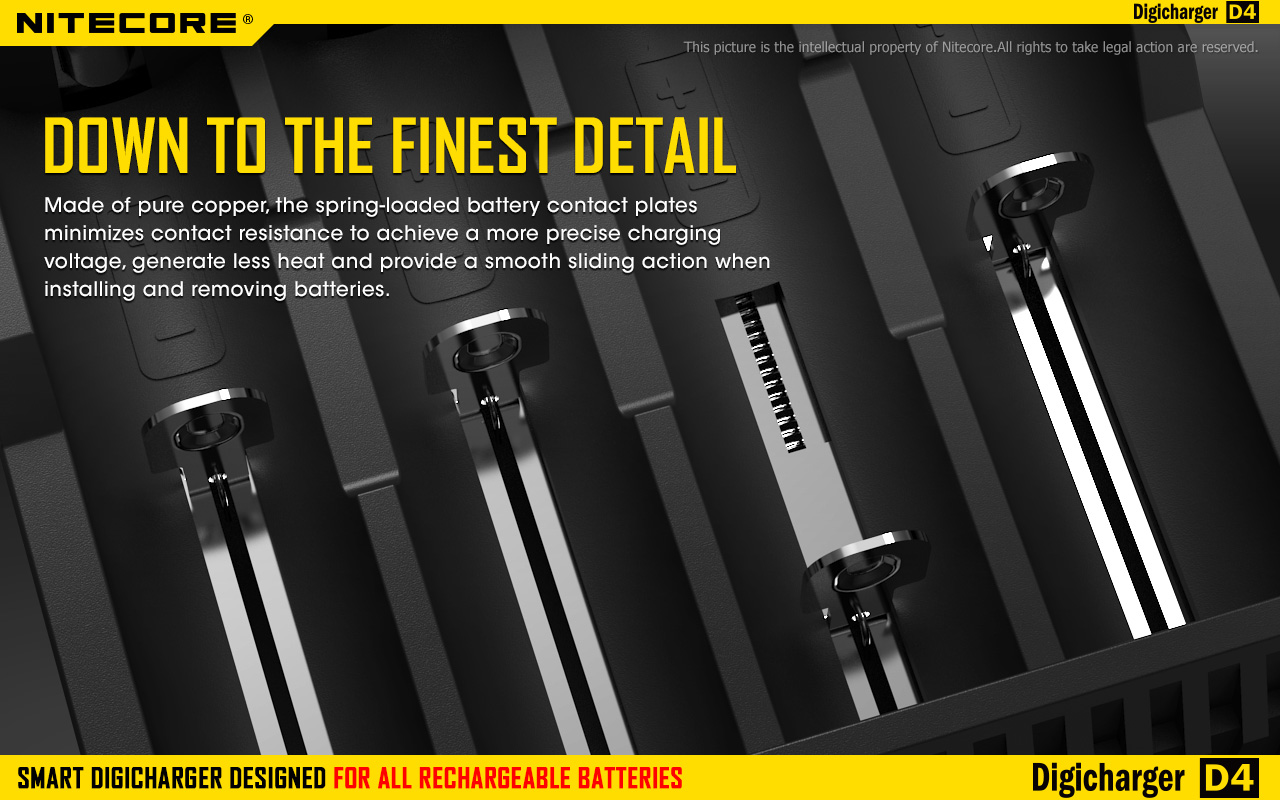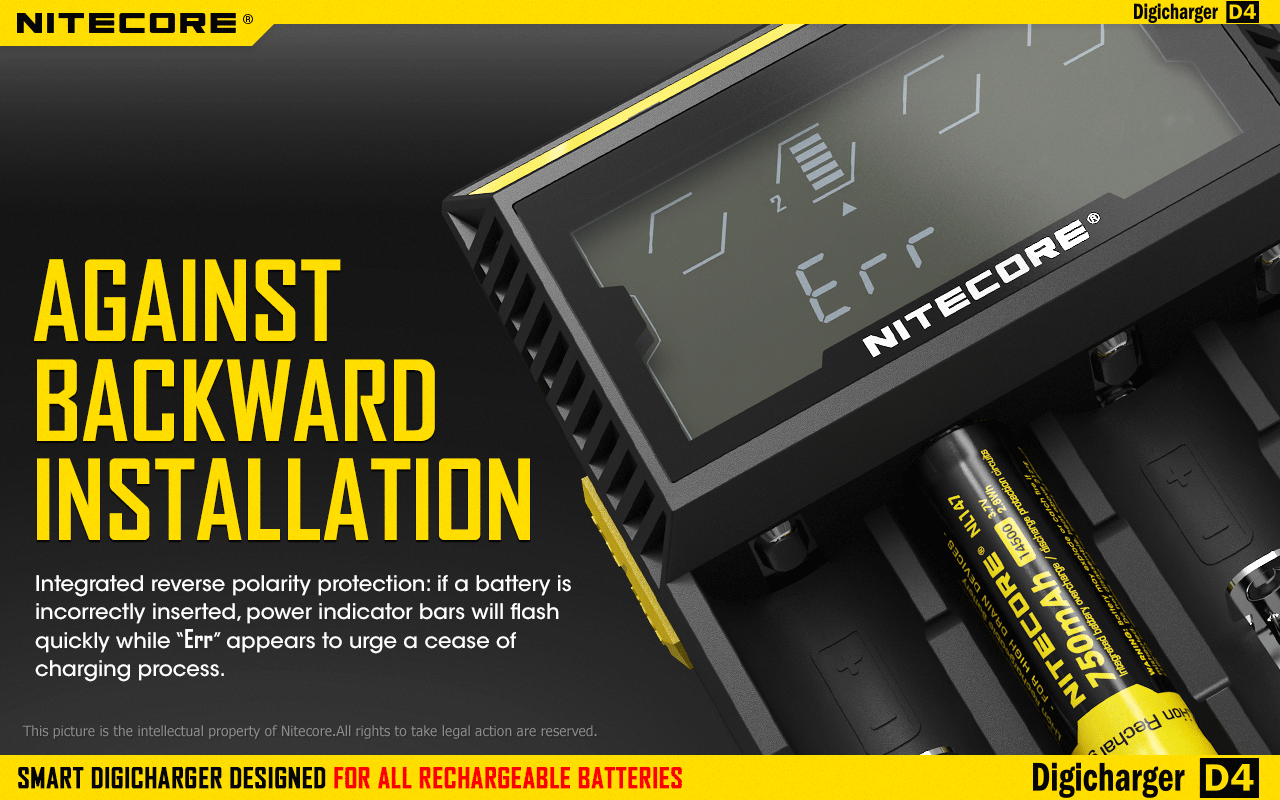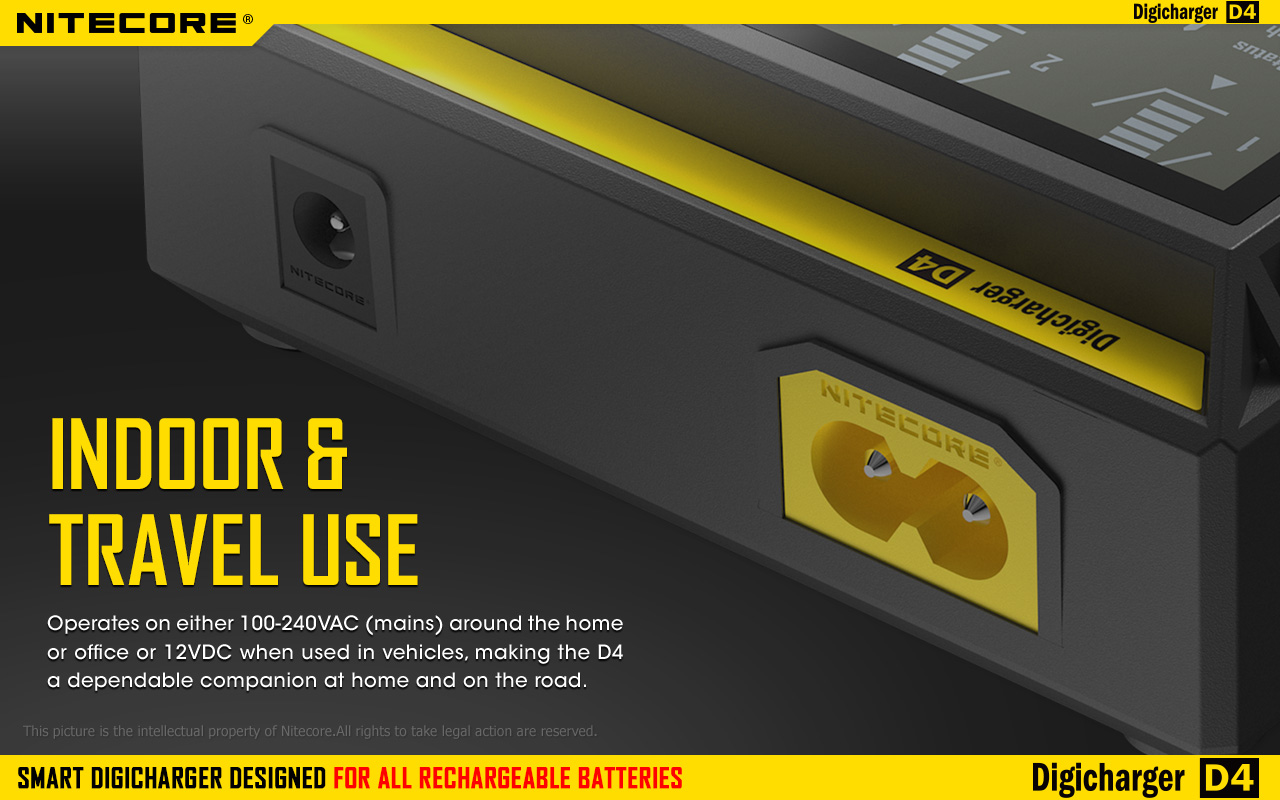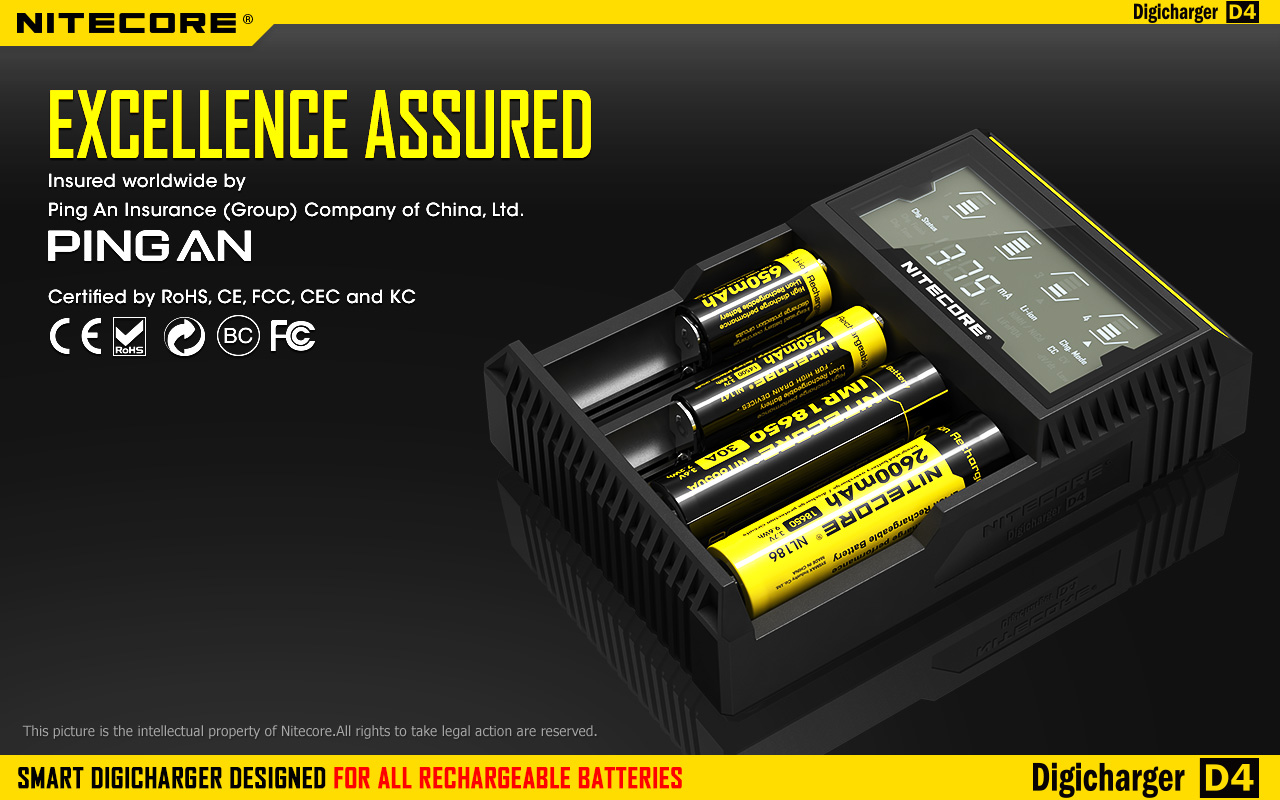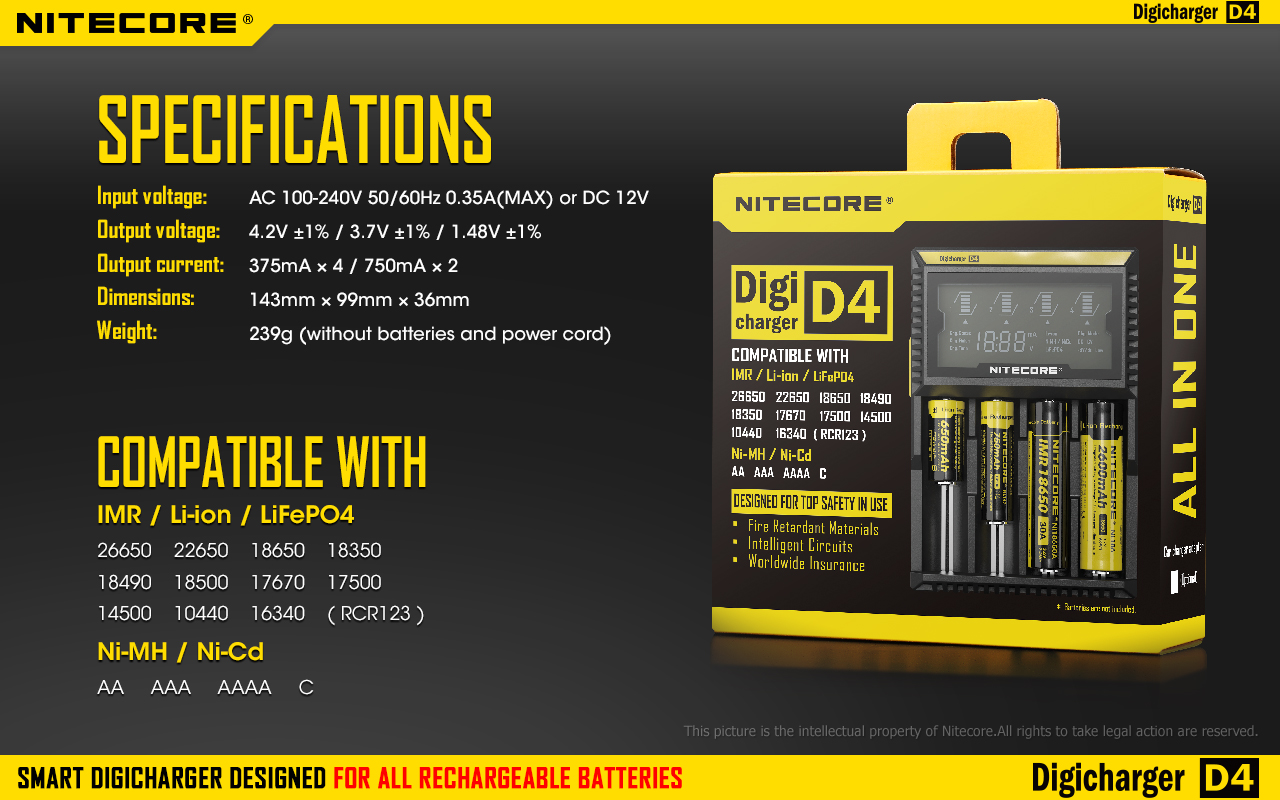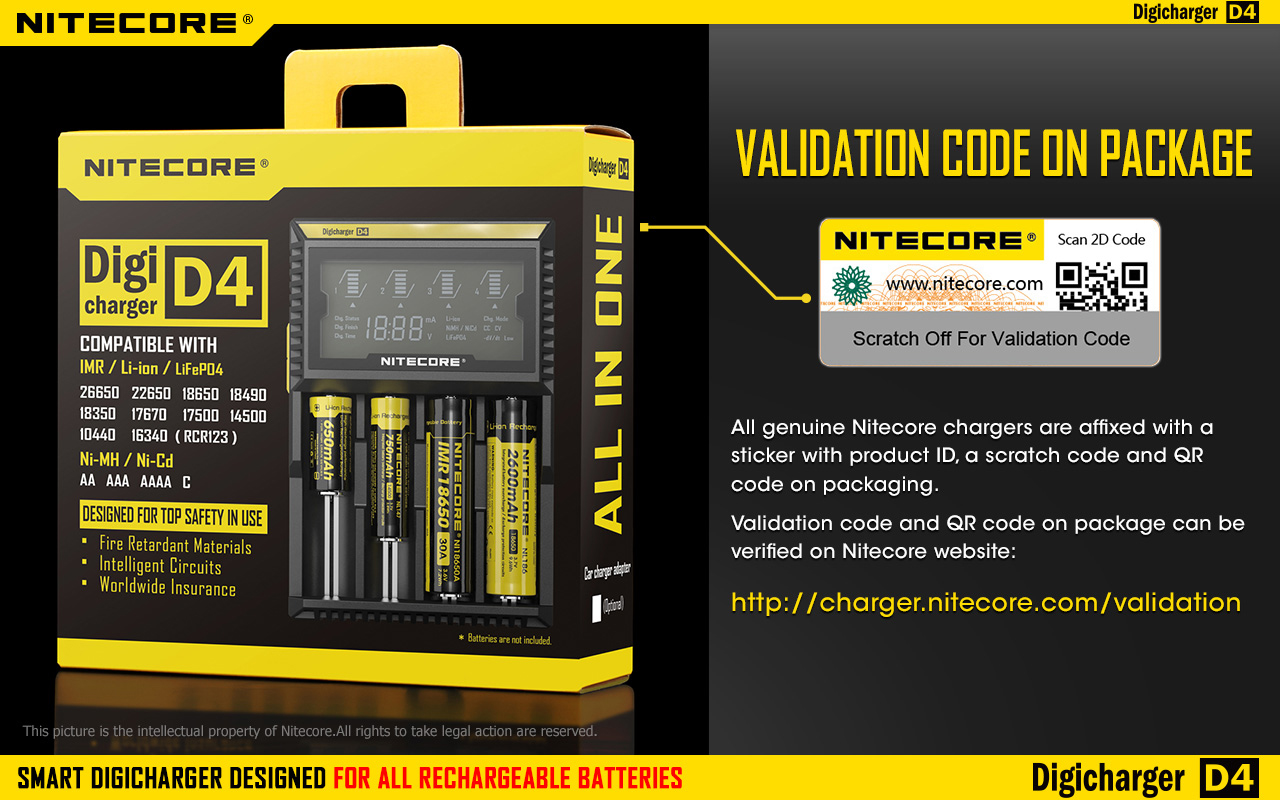 Specification:
Compatible battery types:

Li-ion (26650, 22650, 18650, 17670, 18490, 17500, 18350, 16340(RCR123), 14500, 10440).
Ni-MH and Ni-Cd (AA, AAA, AAAA, C) rechargeable batteries

Input: AC 100-240V 50/60Hz 0.35A(MAX), DC 12V 1A
Output voltage: 4.2V ±1% / 3.7V ±1% / 1.48V ±1%
Output current: 375mA x 4 / 750mA x 2
Dimensions: 5.6″ (143mm) × 3.9″ (99mm) × 1.4″ (36mm)
Weight: 8.5oz (239g) (without batteries and power cord)
Features:
Charging up to 4 batteries simultaneously
Monitors and charges each of the four battery slots independently
Detects the battery type and status and automatic select appropriate charge modes (CC, CV, dV/dt). (Exception: LiFePO4 batteries require manual selection).
Automatically stops charging when complete.
Integrated LCD panel clearly displays charging mode, voltage, current and progress
Reverse polarity protection
Over-charge prevention to protect batteries
Overheating prevention through temperature monitoring and optimal heat dissipation design
Compatible and optimized for:

IMR batteries
LiFePO4 batteries
Small capacity batteries

Conveniently located side buttons to manually select specific battery types and charging parameters
Made from durable ABS (fire retardant / flame resistant)
Certified by RoHS, CE, FCC and CEC
Insured worldwide by Ping An Insurance (Group) Company of China, Ltd.
Buy salts, freebase liquids, Mods, Kits, Hardware, Tanks, Accessories, Pods, Coils, etc. from THEVAPETOWN your favorite vape shop at your ease to get delivered to your doorstep. We provide the best quality e-liquids salts and hardware all over Pakistan with a cash-on-delivery service or you can transfer online.
Check Out More NicSalts and Freebase Flavors at www.thevapetown.com Or Visit Our Branches in Lahore:
1: Gulberg Branch: 18-G Center Point Plaza Main Boulevard Gulberg, Lahore
2: Wapda Town Branch: 187-Airline Housing Society, Lahore
3: UCP Branch: 599 main Khayaban-e-Jinnah, Beside UCP University, Lahore
THE BEST VAPE SHOP IN LAHORE, PAKISTAN.
THE VAPE TOWN is a leading Vape Shop in Lahore Pakistan with a one-stop solution for all your vaping desires. From Salt Nics to Juul pods, from premium USA e-juices to pod mods, Electronic Shisha, starter kits, and rebuildable tanks, we have it all in a huge variety for you to choose from at the best price in Pakistan. You can choose the best quality e-cigarette in Pakistan with the best quality e-liquid or e-juice from our widest range from the UK, the USA, and Malaysia, now available in Pakistan at the best price. TheVapeTown Pakistan has it all.